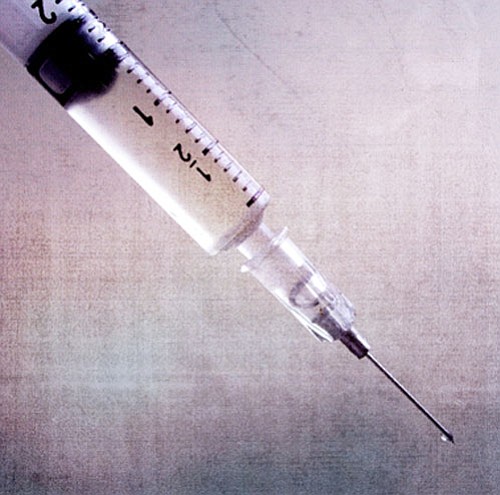 Originally Published: October 14, 2008 4:03 p.m.
Every year in the United States, more than 200,000 people are hospitalized from flu complications, and about 36,000 people die from flu related illnesses. This year, Tuba City Regional Health Care Corporation (TCRHCC) has some very special services to help make it easier for you and your family to get a flu shot to protect yourself from influenza- these include the "Flu Shot Clinic" at the Tuba City hospital, and school based shots for students and staff. Read on to learn more about flu, and how to protect yourself this flu season.
What is the "flu"?
The "flu" is what we all call an infection caused by the influenza virus. This is usually an illness of the nose, throat and lungs. It comes every year to our communities usually from December to March. It can cause mild to severe illness, and at times can lead to death especially in people who are elderly, very young, or have other illnesses. The best way to prevent the flu is by getting a flu shot each fall.
Symptoms of the flu include:
• fever (usually high)
• headache
• extreme tiredness
• dry cough
• sore throat
• runny or stuffy nose
• muscle aches
• stomach symptoms, such as nausea, vomiting, and diarrhea also can occur but are more common in children than adults
The flu often feels different than a regular "common cold" because of the high fever and lots of body aches, especially the first two or three days.
Certain people are at higher risk than others of getting severe flu infections or complications. These include older people, young children, and those with certain health conditions such as lung diseases including asthma, heart disease, diabetes and other chronic illnesses. Complications of flu can include lung infection, dehydration, and worsening of other medical conditions such as congestive heart failure, asthma, or diabetes.
How Flu Spreads
Flu viruses spread by coughing and sneezing. They usually spread from person to person, or sometimes when a person touches a surface that has recently been coughed or sneezed on by someone with the flu. It is very contagious, and people can get others sick even 1 day before symptoms develop and up to 5 days after becoming sick. That means that you can pass on the flu to someone else before you know you are sick, as well as while you are sick.
What You Should Do If You Get the Flu
• Rest;
• Drink plenty of liquids;
• Avoid using alcohol and tobacco;
• Take medicines (Tylenol or Ibuprofin) to relieve the fever, headaches, and muscle aches.
The flu is caused by a virus, so antibiotics (like penicillin) don't work to cure it. While there are "antiviral" medicines that can work against some kinds of flu, the best way to prevent the flu is to get a flu shot each fall before flu season, to stay away from other sick people (and stay home if you think you have the flu) and wash your hands.
Preventing the Flu: Get Vaccinated
The single best way to prevent the flu is to get a flu shot each fall. October or November is the best time to get vaccinated, but getting vaccinated in December or even later can still be helpful. It takes about two weeks after receiving the flu shot for antibodies to develop in the body and provide protection against the flu virus. In the meantime, you are still at risk for getting the flu. That's why it's better to get vaccinated early in the fall, before the flu season really gets under way.
Also, the flu shot has to be given every year- this is because the kinds of flu viruses in our community change every year, and each one needs a different vaccine. Unlike other vaccines (like measles, mumps, hepatitis) where you may be protected for life after your childhood shots, you must get a new flu shot every fall if you want to be protected.
Who Should Get Vaccinated?
Almost everyone who wants to reduce their chances of getting the flu can get vaccinated. However, certain people should get vaccinated each year.
People who should get vaccinated each year are:
1) People at high risk for complications from the flu:
• All adults 50 years and older;
• People who live in nursing homes and other long-term care facilities;
• Adults and children 6 months and older with chronic heart or lung conditions, including asthma, diabetes, chronic kidney disease, or a weakened immune system (including immune system problems caused by medicines or by infection with HIV/AIDS);
• Women who will be pregnant during the influenza season;
• People with any condition that makes it hard to breathe or swallow, such as brain injury or disease, spinal cord injuries, seizure disorders, or other nerve or muscle disorders.
2) Other people recommended to receive vaccine:
• All children ages 6 months to 18 years
• People who can give flu to others at high risk for complications. Any person in close contact with someone in a high-risk group should get vaccinated. This includes all health-care workers, household members and out-of-home caregivers of children less than 6 months of age, household family members of patients with asthma, diabetes, kidney disease and a weakened immune system, and household members of people 50 years and older.
Where can I get a flu shot?
At TCRHCC, we have a special clinic for patients who only want a flu shot; no appointment is needed. It is open between 8 a.m. -12 p.m. and 1 p.m. - 4 p.m. Mon-Fri, but not on holidays.
This year, TCRHCC is working with the local schools to offer school based flu shots for students and staff - your student should receive information on dates for their school, and a consent form and patient registration form are required for all students who will get their shot at school.
There will also be announcements for chapter house or community flu vaccine clinics that will be posted in your community
What are other steps that can be taken to prevent the flu?
There are other good health habits that can help prevent the flu. These are:
• Avoid close contact with people who are sick. When you are sick, keep your distance from others to protect them from getting sick too.
• If possible, stay home from work, school, and errands when you are sick. You will help prevent others from catching your illness.
• Cover your mouth and nose with a tissue when coughing or sneezing. Or cough and sneeze into your elbow if you will not be able to immediately wash your hands. It may prevent those around you from getting sick.
• Washing your hands often will help protect you from germs.
• Avoid touching your eyes, nose or mouth. Germs are often spread when a person touches something that has with germs and then touches his or her eyes, nose, or mouth.
• Consider carrying some alcohol based hand sanitizer with you if you may not be able to get to a sink to wash your hands.
For more information about the flu and the TCRHCC flu shot program, contact the Tuba City Regional Health Care Corporation at (928) 283-2501.