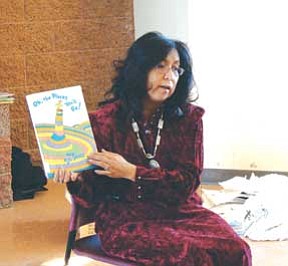 Originally Published: March 26, 2008 1:48 p.m.
WINDOW ROCK - Navajo Nation First Lady Vikki Shirley urged children across Navajoland to read to get on the path to success during a "Reading Across America" assembly held at the Navajo Nation Museum and Library March 17.
"All it takes is a book to begin a path toward success," Mrs. Shirley said.
"We forget that knowing how to read is a gift and skill. Words, sentences and stories give us the power to develop into presidents, doctors, lawyers and other professionals."
Reading Across America" is a nationwide program sponsored each year by the National Education Association (NEA). Now in its 11th year, the program hopes to focus the country's attention on how important reading is to motivate children in addition to helping them master basic skills.
"We as parents need to read to you, our children," the First Lady said. "Encourage your parents to read to you. Read to your parents. It is a way to develop goals together."
A big reader in the Shirley family, she said, is President Shirley himself. She said he has read thousands of books and is never without one in progress.
The President credits the simple skill of being able to read for his ability to become a leader at his chapter, his county, on the Navajo Nation Council and eventually for the entire Navajo Nation.
He said reading will take a person around the world from their living room or teach one how to tear apart a pickup truck and put it together again.
"If you know how to read, you're in a good position [to] stand on your own two feet," he said. "That's what reading can do for you. It has done it for me, and it has been repeated over and over by many leaders and successful people."
"Learning how to read. It can take you a long ways. It's a foundation in life," he said.