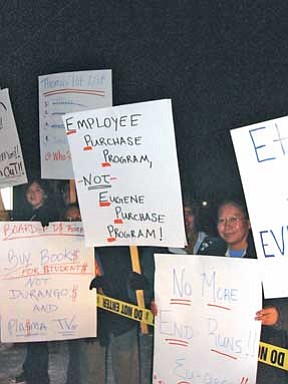 Originally Published: March 26, 2008 1:39 p.m.
FLAGSTAFF - Coconino County Recorder Candace Owens verified that recall petitions against Tuba City Unified School District No.15 Advisory Board members Alvin Harvey, Linda Honahni and Jack Begay were filed at her office on Friday, March 14.
"We must now go through the process of checking each signature to verify its validity," Owens said. "We will check each signature against the person's voting registration to make sure they match. We have 60 days to do that, although we don't expect the process to take that long."
Owens explained that each petition would be checked individually, and making the assumption that all three petitions had the necessary 673 signatures, her office would then notify the board members as well as the individual or individuals who filed the petitions within 48 hours.
"It could be that one petition may be good, maybe two, maybe all three," Owens said.
But should the petitions for all three individuals have the necessary number of signatures, there are further steps required by law before the public would have the chance to recall Harvey, Honahni and Begay.
"The board members would first be given the opportunity to resign. If the individuals do not resign, then the recall would be put on the ballot at the next consolidated election date-in this case, in September."
Owens described this particular situation as complicated in that Harvey and Begay's terms both end in December. Should they be replaced at the election in September, the individuals who replaced them would be required to run again in December.
There is also the matter of having candidates to run against the board members on the recall petitions.
"It's not just a matter of removing them from office," Owens explained. "There has to be individuals who are qualified to run for the positions. They can't just be voted out of office."
If there is no one willing to go through the process, including gathering the signatures necessary to put them on the ballot, then the three individuals would retain their positions.