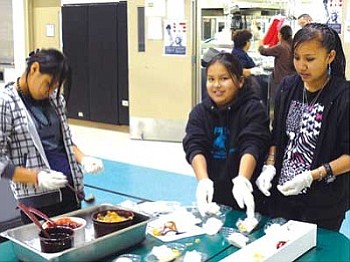 Originally Published: March 18, 2008 5:50 p.m.
PINON - Pinon Accelerated Middle School honored all of its students who successfully achieved at least one grade level improvement in the latest round of NWEA Math, Reading, and Language Arts examinations. Over 80 students were rewarded for their outstanding effort with a place at "the world's largest banana split" sundae fest in the school cafeteria on March 10.
The following students were honored: Wacey Allison, Rosina Bahe, Arnetia Begay, NaDesbah Belingachee, Darnell Ben, Crystal Beno, Marlen Beno, Nanabah Bizahaloni, Tahnee Brown, Sheanyah Burbank, Ericka Denezpi, Michael Etsitty, Andreas Garcia, Dominic Graye, Savona James, Tasheena Joe, Therman John, Ryan Johnson, Koley Kanuho, Karla Kee, Kyle Kescoli, Darvina Lee, Charmayne Manybeads, Kerry Nalwood, Royal Nelson, Kaitlin Purley, Dakota Sage, Janssen Abes, Raquel Bahe, Deron Bee, Audrianna Begay, Garrison Benally, Harlen Beno, Rachelle Capp, Theadore Claw, Johansen Coochyumtewa, Denitra Cowboy, Lationialyn Dayzie, Gerilyn Elthie, Leo Hosteen, Pedra Jinnity, Gaveril Joe, Eetava John, Tiffany Morgan, Sean Smith, Marqus Tachine, Tanya Tachine, Rahmera Taylor, Joey Tso, Clint Tsosie, Wynonna Tsosie, Jasmine Whitehair, Felicia Yazzie, Shonika Yazzie, Ashley Begay, Chester Begay, Coy Begay, Harris Begay, Shynell Begay, Sirena Beno, Jerimiah Carroll, Leandrew Dailey, Denise Dempsey, Orlando Elthie, Shania Kee, Francesca Morgan, Joshua Nez, Melany Nez, Jernigan Neztsosie, Vittorio Sage, Codylain Segay, Shoshanah Toddy, Marcus Todechine, Arnold Tsosie, Morgan Tsosie, Kamisha Yazzie, Kristina Yazzie, Mikala Yazzie, and Andrea Youvella.
In addition, the following students received a certificate for a Pizza Party Gift Card for improving above their grade level: Shynell Begay, Shania Kee, Denitra Cowboy, Tiffany Morgan, Sean Smith, Shanell Tsosie, Ordell Bizahaloni and Kerry Nalwood.