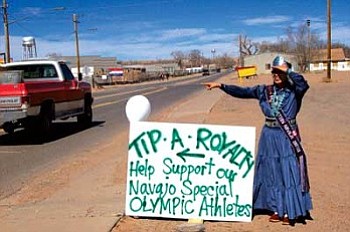 Originally Published: March 18, 2008 6:24 p.m.
Hosted by Miss Western Navajo, Crystal Carr (back row, center), a fundraising event called "Tip-A-Royalty" took place March 1 at Hogan's Restaurant in Tuba City. Royalty from across the Navajo Nation came and collected donations in support of the Special Olympics.
Though business was slow, they managed to raise over $450. Royalty included Miss Western Navajo, Crystal Carr; Miss Navajo Nation, Jonathea Tso; Miss Central Navajo, Dorthea Paul; Miss Central Teen, Crystal Littleben; Miss Eastern Navajo, Yolanda Charley; Miss Greyhills, Shannon Nez; Miss Tseyi, Shannon Gorman; Miss T-Bird Princess, Qrystal Begay; Lil' Miss Western, Tanisha Bennett and former Miss Western Navajo, Tasheena Tisi.
Much appreciation goes to Hogan's Restaurant and all of their employees for their generosity and cooperation. Also, thank you to the community of Tuba City as well as the surrounding areas for coming out and supporting their cause.