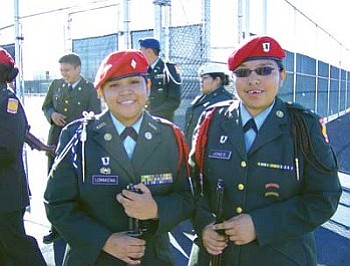 Originally Published: March 18, 2008 6:56 p.m.
After the Hopi Junior Reserve Officer Training Corps (JROTC) Program returned from Hawaii in January, another challenge was already underway. The Raiders started their tough workouts and the Drill and Color Guard Teams concentrated on making their movements sharp. What were they getting ready for? They were preparing for the Bonanza Drill Meet which was held in Las Vegas, Nev. on March 8.
The Bonanza requirements were that it needed a 10-person unarmed and armed Drill platoon, four person Color Guard Team, four person Raiders Team and a four person Academic Team.
Despite the lack of amount of time, the Hopi JROTC was determined to show what they could do. A total of 14 cadets departed March 7 from the Hopi High School at 7 in the morning when the air was still crisp and cool. While the other Hopi High students were busy getting ready for school, the JROTC cadets were well on their way to Las Vegas. After the five-hour trip to our neighboring state, the cadets arrived at Bonanza High School. They unloaded their rifles and colors and practiced for about an hour in the warm sunny weather before leaving for dinner.
The following morning, all the cadets were motivated, nervous and excited all at the same time. The events for the day were: The Academic Challenge, Color Guard, Armed Regulation, Unarmed Regulation, and Raiders. The Raiders portion was unique because it was more of a track and field event. At the days end, all of the cadets were tired because most of them had participated in two or three events that day. However, they loaded up the bus and left for home at 3:30 that afternoon.
Although there were six other schools that participated in the Bonanza Drill Meet, Hopi took second place in the following categories: the Girls Raiders Challenge, L.E.T III Academic Challenge, and the Armed Regulation. They also took third Place for the Unarmed Regulation and Cadet Staff Sergeant Saneil Honyaktewa took third Place for the shot put event, she will also be receiving a bronze medal.
The Hopi JROTC cadets had fun at the drill meet and proved to everyone that a Hopi JROTC cadet can do anything. The cadets are now getting ready for their next big event, which is the State Drill Meet which is coming up in April. Congratulations to all the cadets who participated in the Bonanza Drill Meet.