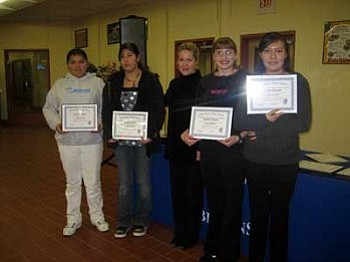 Originally Published: March 4, 2008 7:26 p.m.
Hopi Junior High honored 49 students Jan. 22 during its academic awards banquet.
"These awards are important because they are the core subjects and the students deserve the recognition." said Diane Honyumptewa, secretary at Hopi Junior High.
Brooke Namoki and Hayley Keith received the most awards; each received five awards. Crystal Jenkins, LaKayla Adams, and Sacheen Mike each received four awards.
Students say that they are happy to receive these awards, saying it is an honor because they were chosen out of the entire school.
Honyumptewa said, "Teachers say it's an honor to give out awards to these individuals because the students put a lot of work into their studies."
Teachers, staff and students get positive feedback from parents on the academic awards.
The students receiving academic honors were Allen Joshvama, Amber Nez, Brittany Little, Brooke Namoki, Carolla Fred, Charles Tawyesva, Christina Rucker, Clinessa Lucas, Courtney Hayah, Crystal Jenkins, Dean Koinva, Derrick Holmes, Dion Sahneyah, Duane Gashwazra, Erin Miguel, Grant Tungovia, Hayley Keith, Ian Satala, Jasmine Humetewa, Jeremy Outah, John David Jr.,Josette DeLowe, Kachina Jenkins, Kayla Lomayestewa, Keith David, Kendall Wartz, Kendrick Nutumya, LaKayla Adams, Lamon Barehand, Lucinda Tungovia, MacKenzie davis, Makiah Chapella, Mariah Nevayaktewa, Marques Koiyaquaptewa, Mia Lomayaktewa, Mina Nasafotie, Nate Benoist, Nicole Lomayaktewa, Noelle Kooyahoema, Rulon Tungovia, Russell Dewangyumptewa, Sacheen Mike, Serphina Nasingoetewa, Shanice Poola, Sheldon Nanacasia, Tara Miguel, Uintah Polacca, Valencia Henson, and Zachary Youvella.