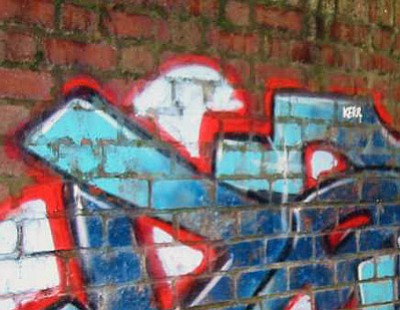 Originally Published: July 30, 2008 5:05 p.m.
I suppose it was only a matter of time... Louise Yellowman, Coconino County District 5 Supervisor, goes through the trouble of obtaining hard-to-come-by funds to have a nice new park/playground built for families and children in Tuba City to enjoy, and in just a couple of months, vandals desecrate it with graffiti. Ironically, a reader submitted a letter to the editor this week (click here to read the letter) wondering why the County doesn't do much for people in reservation communities like Tuba City, which is within Coconino County. I really hate to say this, but the actions of a few misguided Native youths may be to blame in part for why the County may be somewhat reluctant to give money for projects that they may feel are simply going to waste. They may think, "Why 'waste' precious resources on the reservation when the money could be used for something that will be better appreciated elsewhere?"
It seems like no matter where you look - not just on Navajo or Hopi - graffiti is everywhere. Street signs and billboards, buildings, overpasses and underpasses, overhangs and overlooks, pay phones, public bathrooms, playgrounds, dumpsters, and even trees and boulders are being "tagged" with graffiti. So what does it all mean?
Graffiti is most often associated with gangs and gang activity and is seen by many as an unsightly nuisance, but in my opinion, much of what is being done to combat this problem is nothing more than "band-aid" solutions and simply REacting to something that's already been done. While I consider graffiti to be unsightly as well, I also see it as a cry for help...a "message to the masses," if you will, saying, "I have no one in my life to guide me, so I'm out here doing this because it makes me feel good about myself!" It's a way for these "lost youth" to gain attention because they wouldn't get any attention otherwise.
A conversation I had earlier today with one of my co-workers more or less affirmed what I have observed casually in many of today's Native communities over the past 20 years or so. There's no such thing as "family" anymore. In this day and age, principles of obligation and the proverbial "rat race" have changed things so much that parents are no longer willing (or able) to take responsibility and guide their children through the stages of life as they should. Instead, it's often the grandparents or other relatives, or teachers, principals, counselors and coaches who are expected to take on this "missing parent" role. When this happens, a child can't develop a sense of belonging to one group or another and be able to conceive what is right and wrong because no one has time to sit them down and teach them the difference.
So these poor children often go through life watching whatever is on the "electronic babysitter" (TV) or watching their peers exhibit various negative behaviors, and because there is no one there to guide and/or discipline them, and no one in their family paying any attention to what they're doing and telling them that what they're doing is either "right" or "wrong," they simply go ahead and emulate the behavior of their peers or whatever they see on TV just to get the attention that they want in order to feel accepted and feel like they "belong" in a particular group or gang - a "surrogate family" of sorts.
In fact, I'm willing to bet my hard-earned money that a majority of Native youth who are currently associated with gangs or involved in gang activity of some sort don't consciously or actively choose to be in a gang - it more or less chooses them. The easiest way to conquer this PROactively is to make yourself available to a child when they need you rather than wait until they get into some kind of trouble and then REact to it after the fact. The point is to stop the negative behavior before it happens in the first place.
My father always used to tell my siblings and I, "A good education starts in the home." He was never more right. At the time, I thought my upbringing was somewhat harsh...being the oldest of three, I wasn't allowed to play with certain friends or allowed to go certain places because I had to watch over my siblings or else help my grandfather with chores out at the ranch... I HATED being "ordered" around by my parents and grandparents and told, "This is the way things are just because that's how things are!" But you know what? At nearly 40 years of age, I am very thankful and appreciative of my "harsh" upbringing that made me into the person that I am today. All it took was a loving family in a nurturing family environment to keep me from joining a gang or involving myself with people who indulged in negative behavior.
So with that, I urge everyone to attend the meeting with the Coconino County Inter-Tribal Advisory Council in Tuba City at Louise Yellowman Park on Monday, August 4 at 4 p.m. Voice your input on PROactive (not REactive or "band-aid") solutions to keep our youth in more stable family environments so that vandalism hopefully becomes a thing of the past.