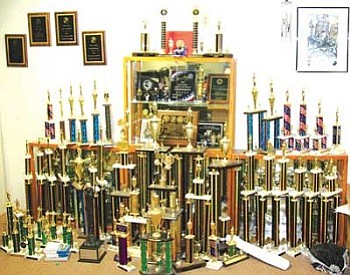 Originally Published: January 29, 2008 1 p.m.
TUBA CITY - The other competing schools swear the winning secret to the Tuba City High School MCJROTC winning in state competition is that the Warriors have "camouflage green blood" running through their veins.
However, Tuba City High retired Marine instructors, 1st Sgt. Ken Bustamante and Gunnery Sgt. Tim Shaner, believe their students' oustanding talent is backed by practice, discipline, dedication, heart, ambition, team-concept and a sugar-free diet followed up by even more practice and more discipline.
"I am very proud of our team and their group accomplishments so far this year. We set our goals at the first of the season and [we] have accomplished these goals. We are getting prepared now for the Western Region Championship Feb. 20-24 at the Olympic Training Center in Colorado Springs, Colo. This is the second round of the Marine Corps Nationals. The Eastern Championship is the second week in February. The top four teams from the Eastern and Western Championship combined will represent the Marine Corps at the JROTC National Championships in Ft. Benning, Ga. in March. Going into this round, Tuba City High is ranked No. 1 in the Western region and No. 2 overall." said Shaner after their win.
When the dust had cleared, Tuba City High School was the champion by three points, capturing their third straight State Championship.
Tuba City High School finished with a final score of 2,073. Alhambra High scored 2,070, Trevor Browne scored 2,022.
Individual winners for Tuba City High include Ashley Manygoats, Individual State Championship, (gold medal and plaque), gold medal Standing, gold medal Kneeling and Team gold medal. Kevin Haskey won Team gold medal and Stephen Goldtooth won Team gold medal.
Every December, each region holds is regional championship. The top six teams in each region compete to qualify for the championship. This was Tuba City High's fifth straight year to win the North-South Region.
This year's contest was the closest in Tuba City High competition history for the MCJROTC program.
For more information about the award winning, state recognized MCJROTC program at Tuba City High School contact Tim Shaner at Tuba City High School at (928) 283-1078 or 1050.