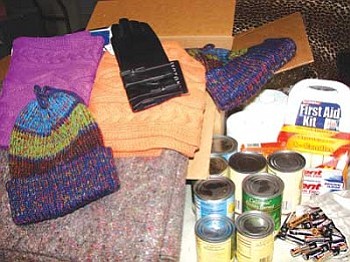 Originally Published: January 29, 2008 1:14 p.m.
There is a place that strives to help Native American people. The name of this organization is National Relief Charities. Who do they help? Most of their programs serve small rural or isolated communities. Their mission is "To help Native American people improve the quality of their lives by providing opportunities for them to bring about positive changes in their communities."
National Relief Charities (NRC) has a lot of programs that Natives may be unaware of, such as their winter programs that operate during the coldest weather. NRC has several different ways to help people out during the winter. They help with winter fuel, weatherization and provide winter emergency boxes. NRC works with reservations partners to figure out where to provide the winter assistance. This is to ensure that the most rural communities with the highest needs get the support.
Winter fuel
NRC provides winter fuel in a designated community each year. For instance, in the Navajo Nation, firewood is provided for elders age 62 and over in remote communities where a lot of elders depend on wood-burning stoves and heaters during the winter months. Wood is scarce or hauling is difficult in these areas. Most recently, NRC distributed firewood in the Navajo communities of Nazlini and Tohajiilee, N.M.
In the Southwest, NRC also provides coal. It all depends on what form of heat is used by the elders in the community being served. Typically, some burn wood, others burn coal and some burn both because the coal makes the wood burn longer. In the community of Thoreau, N.M., NRC distributed about 2,500 pounds of coal to the elders there.
Weatherization
On some of the reservations where NRC works, housing is limited and often deteriorated. Many homes are in need of repair to keep out the cold winter. This is especially true for the elders who cannot repair the homes themselves. NRC selects Navajo or other communities where the service of "weatherizing" can be done and would make a meaningful difference. This year NRC weatherized homes in the communities of Dennehotso, Chilchinbito, Kayenta, Oljato, Inscription House, and Shonto to help them weather the already cold winter. They also provided do-it-yourself weatherization kits to 300 other Navajo elders.
Winter emergency boxes
NRC also provides winter emergency boxes to recommended communities. The boxes contain items that might help someone weather a storm if they get snowed in. Maybe some people end up using it because they are homebound or sick. Most recently, NRC provided winter emergency boxes to the communities of Upper Fruitland and Sanostee, N.M. for the Navajo and also in Peach Springs for the Hualapai. Those boxes contained blankets, flashlights, batteries, candles, hats and scarves and some food and bottled water.
Who can work with NRC?
NRC staff say that the winter programs are special programs, meaning they are not available everywhere. NRC works with its program partners to select the best communities for the winter and other special programs every year.
NRC also has other programs that operate year-round to support reservation communities and their tribal or charitable programs. Examples are providing Thanksgiving meals, Christmas gifts, support of diabetes programs or flu clinics, school supplies and scholarships for college-bound students to name a few. Most of these programs require an application that is filed by a published deadline. The program staff at their Phoenix warehouse provides the forms and deadlines.
NRC does not work with individuals but rather with programs that are on reservations in its service area (e.g., Arizona, New Mexico, and Utah). With each program, NRC establishes a regular program partner, a designated person in the reservation program who requests from them, receives the shipments directly, and reports on their distribution.
NRC may be the only Native-serving charity that has hundreds of Native American partners who live on the reservations and work in the communities that NRC serves. They enjoy ongoing partnerships and relationships with these program partners while some charities simply deliver the goods to a location and leave.
NRC works side-by-side with its program partners and the volunteers they recruit from their communities, to make sure the goods get to the intended people. This way of working is the other part of NRC's mission: to provide opportunities such as these that build confidence and skill and contributes to stronger, more self-sufficient Native American communities.
For more information about NRC's Southwest programs, call Rick Miller at (877) 281-0808.
More like this story