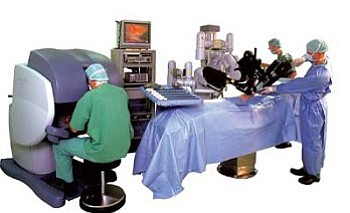 Originally Published: January 29, 2008 1:50 p.m.
FLAGSTAFF - Flagstaff Medical Center (FMC) performed its first general surgery Jan. 17 using the da Vinci Surgical System. FMC is the only hospital in northern and central Arizona to offer this advanced, minimally invasive surgical technology. The $1.5 million system was installed in one of FMC's 11 operating rooms. Physicians and staff go through extensive training to be certified to use the system.
"Minimally invasive surgery is preferred by patients and surgeons because it minimizes the trauma to the body and speeds recovery time," said general surgeon Robert Berger, M.D. "The new da Vinci Surgical System provides our patients and surgeons the most advanced surgical technology available. Smaller incisions and less trauma to surrounding tissue means less pain for the patient, lower risk of infection, less blood loss, shorter recovery time and quicker return to normal activities."
The system enhances a surgeon's capabilities by combining three-dimensional, high-definition robotics to extend the surgeon's eyes and hands deep into the surgical field through small, precise movements. The system allows complex surgeries to be less invasive because the surgery is performed through tiny incisions, rather than through large, open incisions.
Surgeons are seated at a digital console a few feet away from the patient while nurses and technicians remain at the patient's side. The surgeon's hand movements are scaled down to small, precise movements through the use of a micro-camera and micro-instruments within the operative site. The system cannot be programmed nor can it make decisions on its own. Each movement of the instruments is performed by the surgeon.
Through a small incision, the camera provides an enlarged, three-dimensional view of the operative site. Two to three small incisions are made to allow the use of 360-degree rotational micro-instruments. The small size and rotational functionality of the instruments decreases the amount of trauma to surrounding tissues.
Traditional laparoscopic surgery offers only a one-dimensional view of the operative site and the instruments are unable to rotate. The da Vinci Surgical System can perform in a way that traditional laparoscopic instruments and the human hand simply cannot.
"Being able to enhance the surgeon's ability to see and operate on the delicate tissue, organs, vessels and nerves is monumental," Berger said. "Ultimately, this system allows FMC to provide better surgical outcomes for our patients - our patients are our top priority."
The da Vinci Surgical System is FDA-approved for use in general, bariatric, cardiac, urology and gynecology procedures. At FMC, the system will first be used for general surgery procedures, including weight loss surgery. FMC will be the only hospital in Arizona routinely using robotics for weight loss and general surgery.
For more information on FMC departments and services visit FlagstaffMedicalCenter.com or call (928) 779-3366.