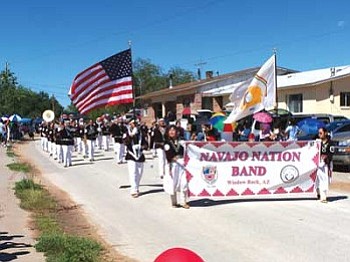 Originally Published: January 22, 2008 11:33 a.m.
GALLUP, N.M. - Navajo Nation Vice President Ben Shelly and Mrs. Martha Shelly joined Navajo Nation Band members to commemorate 70 years of self-discipline and volunteerism at the ninth annual band banquet held Jan. 12.
Since the Navajo Nation Band founded in 1938, band members have participated in the 1975 Tournament of Roses Parade, U.S. presidential inaugurations for Richard M. Nixon and John F. Kennedy, and many Navajo Nation presidential inaugurations.
When band members play a number and march in a parade, their motto - "Pride of the Navajo Nation" - truly inspires an uplifting feeling among Navajo audiences, Vice President Shelly said.
"The Navajo Nation Band has always been our pride, and it is our privilege to see them continue in the heritage of expressing song," the Vice President said. "It is always nice to see you in front of the parade. It gets to your heart."
Band members travel from distant locations like Phoenix, Montezuma Creek and Flagstaff to participate in far-away parades such as the Mescalero Apache Tribe's Fourth of July Feast and Parade near Ruidoso, N.M., said Shirley Barney, the band's "parent."
Vice President Shelly acknowledged the band's dedication, noting that much of the band's work depends on volunteerism with little compensation.
"I know you travel from different directions. The cost of gas is high, your insurance is high. Yet, you come together. You hitchhike, you carpool," he said. "It takes a lot of effort to make it to an event."
The banquet paid tribute to the legacy of the late band director, Chester Hubbard Jr. Hubbard's family played an important role in the establishment of the band in 1938.
"Mr. Hubbard recognized that people without a vision vanish," the Vice President said. "You have a vision. That vision is still here."
The Hubbard family presented an award to the youngest band member, Jordan Cecil, 14.
Band Director Anthony K. Billy, band administrative coordinator Anslem Bitosi II, and Lorraine Tabaha, administrative assistant to the Division of Human Resources, were among those who coordinated the event.
DHR Division Director Lawrence Oliver, and Deputy Director André Cordero helped sponsor the banquet.