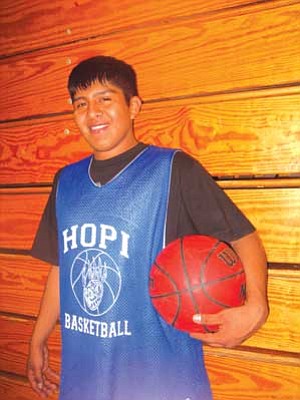 Originally Published: January 22, 2008 12:01 p.m.
POLACCA - Xavier "Big X" Kewanyama has electrified the Hopi crowds with his three-point shooting this year for the Hopi High School boys basketball team.
Big X, a senior, had not played since his freshman year and thinks this year has been exceptionally good.
"I'm having fun," he said.
Big X said the Bruins are starting to win more games because they are playing together better.
A shooting guard, Big X said he wants to improve his passing, look for the open shot and take better care of the ball. He hopes that Hopi High will finish in the top three in the 2A North Region and earn a trip to the state playoffs.
He added that the team can improve by hustling more and playing better defense.
Big X plans to attend vocational school after graduating and hopes to play college basketball. He said he is proud of his teammates for their continued strong efforts on the basketball court.