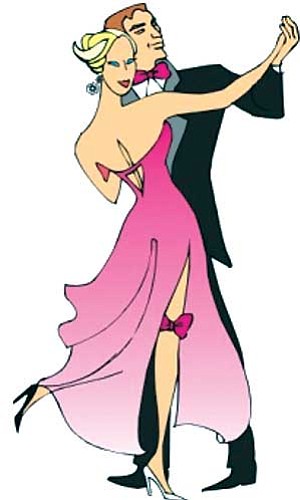 Originally Published: January 22, 2008 11:39 a.m.
Throughout history, people have danced for enjoyment, healing, creativity, social interaction and communication. Today, people of all ages and physical abilities are discovering that dancing is not only great fun, but has wonderful health benefits. Whether it's swing or salsa, ballroom or belly dancing, tango or contra dancing, this enjoyable aerobic activity has become one of the fastest growing forms of exercise. Medical research studies conducted all over the world are indicating that dancing improves both health and quality of life. Results of these studies are proving that dancing has a wide range of mental and physical benefits.
Dancing, in general:
• Improves circulation and strengthens the heart and lungs;
• Enhances brain power, stimulates mental functioning and improves memory skills;
• Strengthens bones;
• Improves balance, coordination, flexibility and muscle strength;
• Lifts the mood, builds confidence and reduces the risk of depression;
• Improves sleep;
• Enhances weight loss; 100-150 calories can be burned during 30 minutes of dancing;
• Reduces stress and tension;
• Builds friendships.
Because of its large number of health benefits, dancing on a regular basis can help ward off illnesses such as high blood pressure, heart disease, diabetes, cancer, osteoporosis, dementia and Alzheimer's disease. Dance movement therapies for children with special needs, such as autism, cerebral palsy and Down's syndrome, can help children form appropriate brain connections and improve their communication and social skills.
A five-year study of 469 men and women over 75 years old reported the mental and physical stimulation of ballroom dancing at least twice a week could lower the risk of dementia by 76 percent. Research also has shown that in some cases, individuals suffering from Alzheimer's have been able to recall forgotten memories when dancing to music they were familiar with when younger.
Another benefit of dancing is that it is such a versatile form of exercise. It can be practiced alone, with a partner or as part of a group. This activity can be done in the home, on dance floors, on cruise ships, outdoors, in clubs and just about anywhere there is open space to move. Hospitals everywhere are providing dance classes in their facilities to help heart patients rehabilitate from heart surgery and help prevent heart disease.
Many people become bored with certain forms of exercise, such as using the treadmill, running or bicycling. Because dancing is an activity that often involves enjoyable social interaction with others, dancers tend to continue this form of exercise long after they've abandoned their exercise equipment for the dance floor.
"Dancing helped me lose 70 pounds after being treated for congestive heart failure," reports John Gliege, a Flagstaff attorney and avid ballroom dancer. "I believe that it's the most enjoyable and healthiest activity I can do. It's also been a wonderful way to make great friends."
If you're not certain which type of dancing you might enjoy, have fun and experiment. Most dance classes welcome singles and couples; new and experienced dancers of all ages. Group and private lessons are offered in community venues throughout Flagstaff.
Flagstaff Medical Center offers free dance classes in their Cardiac Rehabilitation Gym every month. If you would like more information about these classes, contact Cardiac Rehab at 214-3565. Once you venture out on the dance floor, your heart might not want to leave!
Kathy Greenberg, R.N., B.S.N., C.C.E., is the Childbirth Education Coordinator at Flagstaff Medical Center. She and her husband, Robert, teach dance classes at FMC.
Is there a health topic you'd like to know more about? Please write to Mountain Medicine, c/o Flagstaff Medical Center, Public Relations, 1200 North Beaver Street, Flagstaff, AZ 86001, or visit FMC's Web site at FlagstaffMedicalCenter.com. For more information, see your physician.