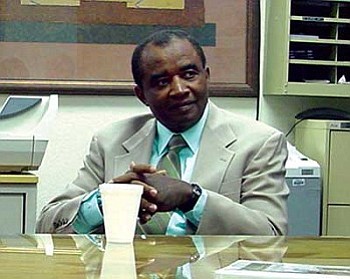 Originally Published: January 16, 2008 11:09 a.m.
TUBA CITY - On Dec. 9, 2007, two Tuba City Unified School District (TCUSD) employees filed charges against three TCUSD administrators with Cecilia Owens, the Coconino County Superintendent of Schools, and asked for "whistle blower" protection against retaliation.
The charges were against TCUSD Superintendent Eugene Thomas, Associate Superintendent for Human Resources/Support Services Adelbert Goldtooth and Chief Financial Officer Joseph Begay.
Rosanda Suetopka Thayer, TCUSD public relations director and Ron Begay, district construction supervisor, have accused Thomas of a large number of indiscretions. These include charges that Thomas' doctorate in education was obtained from Kennedy-Western University (now Warren University), an unaccredited online university whose credentials are not recognized by the United States Department of Education, yet he receives a salary paid at the doctorate scale. The pair claims that he holds one masters degree and is not qualified for his position. Numerous other allegations issued by Suetopka-Thayer and Begay include that Thomas circumvented the employee purchase program and purchased a plasma television from Sam's Club with a district credit card. The pair also assert that Thomas has violated governing board's policies by improperly reorganizing the TCUSD organizational chart and appointing three administrators to improperly established positions-the Chief Financial Office and Associate Superintendent for Human Resources and Support Service positions as well as a Curriculum Director. These positions included $20,000 pay raises. Suetopka Thayer and Begay also assert that Thomas authorized the purchase of two new district vehicles, and allowed Begay and Goldtooth to continue maintenance contracts with Circadian EnviroCon despite licensing, bonds and insurance violations.
Similar charges are also leveled at Goldtooth and Begay. Both men are accused of not being qualified for the positions that they currently hold and that they have also violated district policy.
Thomas spoke with the Navajo Hopi Observer on Jan. 10 to answer the allegations against him. Thomas, a 20-year resident of northern Arizona, worked at General Dynamics in Ft. Defiance, and began his teaching career in Ganado, where he served as a substitute teacher. He currently holds two masters degrees-one in special education, the other in business administration.
When asked to talk about the charges leveled against him by Suetopka-Thayer and Begay, he started with what he called a "red herring," referring to the plasma television purchase.
Thomas offered documentation indicating that the television was obtained by TCUSD Purchase Order No. 280526 issued to Sam's Club. A Purchase Order Pay History and Encumbrance Report dated Dec. 16 indicates that the purchase order was satisfied by a check on Aug. 29.
"The sum of $136.20 is deducted out of every paycheck," Thomas said. "Sam's Club is used by the district and other employees have purchased items through the employee purchase program. The requirement that one be an employee for a year can be waived, and has been for other employees."
Thomas showed documentation showing that TCUSD had indeed set a precedence of waiving the one-year employment requirement, and this was not something done solely for him.
Suetopka-Thayer maintains that the purchase order was issued later, after the use of the credit card.
As to allegations that he improperly purchased new vehicles for two of his administrators, Thomas said that the board had approved the purchases before he took office.
"The district had an approved budget to recycle vehicles in the district, they were in the process of replacing worn out vehicles, and the budget was created before I got there. It was approved in January-I arrived in July," Thomas said.
"All district vehicles are purchased through Arizona State Contract or Mohave Contract and ratified by the governing board at an open meeting during the voucher process," Thomas said, offering district policy allowing that the bidding/quoting requirements are waived if purchases or services are obtained through the Arizona State Procurement Office, the Mohave Educational Services Cooperative or a cooperative for purchasing among public procurement units."
In response to allegations surrounding Circadian EnviroCon, Thomas stated, "Circadian has done work here restoring damaged property after a flood, cleaning mold. Ron Begay claims they are unlicensed, but they are on the state list, where they are clearly licensed for the specific jobs they were hired to do."
Thomas also held documentation showing that the company was indeed licensed to work on mold and asbestos removal.
"Charges that we have engaged in a 'sweetheart deal' are not true," Thomas said.
Thomas also answered concerns that protesters' civil rights had been violated by being removed from campus.
"The district policy is clear," Thomas said. "Protests are not allowed on district property. Statements discussing the recall of board members is a political action, and should not have been allowed in the board meeting-though people there insisted that they be allowed to speak, and did. This was political. We looked at state law, and checked with our attorney, and we did what we were supposed to do by removing the protest from school grounds."
Matt Nicholas asked to have a meet and confer to work out issues with the district during the Call to the Public portion of the board meeting held on Oct. 3, 2007, and addressed the need for meet and confer within the district at the meeting on Jan 9.
"The board has indicated it will not create this-that it is not in the board policy," Thomas said. "This would be allowing a bargaining unit in a Right to Work state."
Though he has been accused of being responsible for the Peach Springs School District being placed in receivership due to overspending of the budget during his tenure, Thomas notes that the district was already in serious trouble upon his arrival. Funding is a problem in many schools across the reservation, Thomas noted, explaining that when the student count goes down, a decrease in funding follows.
"I took over a district in serious trouble from the get-go," Thomas said.
Nonetheless, he resolved a serious issue where special education students had not received services for five years.
"The state told me to fix it, and fix it now," Thomas said. "I also replaced old playground equipment, put sod over a playground covered in rocks and broken glass, and got laptops for teachers."
The raises in question are the result of position reclassification actions for the Associate Superintendent for Curriculum and Instruction to University Liaison, Business Manager to Chief Financial Officer and Human Resources/Support Services Director to Associate Superintendent for Human Resources/Support Services.
Thomas said that the reorganization of the district was necessary and was approved by the governing board. Thomas and the board are involved in recruiting and retaining principals.
"The days of getting quality principals for $50,000 a year are no more," Thomas said. "Nowadays, no one will work for less than [mid] $70,000 or high $80,000. I am supposed to pay an associate superintendent $70,000 and a principal $80,000? It doesn't work like that."
The reorganization of the district was done after careful consideration that included a work-study session, work in regular sessions, and the decision to reclassify Joseph Begay was tabled and readdressed in a special session-open to the public.
Minutes of the special meeting of the Governing Board of TCUSD indicate that the revision of the Organizational Chart for School Year 2007-2008 was approved with no nays or abstentions.
The bathroom lockdowns at Tuba City High have been exaggerated as well, Thomas said, explaining that maintenance had asked that students not be allowed in the restrooms while graffiti clean up was taking place. He added that teachers will not be expected, nor would they need to provide toilet paper for students.
Since becoming a closed campus, Thomas has heard many complaints from students and some parents-but for the most part, parents are happy that their students are safer.
"Parents who want to check their students out for lunch, or who want to bring lunch to their students can go through the front door and sign in at the office to identify themselves," Thomas said.
Thomas said he is already investigating some of the allegations he heard from students at the previous night's meeting and has talked to some teachers.
Finally, Thomas said that the only allegation that he has felt on a personal level is that he is not qualified for his position-and said that he would put his credentials and his doctorate work up against that of anyone else in the district.
"I challenge anyone to say I did not use academic vigor in my doctorate work," Thomas said. "My thesis is a book-I examined 22 educational models and had to whittle that down to 14-my faculty committee rejected it three or four times before I got it right. I am in the top two percent in the superintendent's test, and have renewed my superintendent's certificate. I have exceeded all requirements. I'll put my credentials against anybody's."
Three generations of Thomas' family hold degrees, beginning with his mother's Ph.D. His daughters all have degrees-one holds two master's degrees and another is working on her own Ph.D.
Thomas said that he is not concerned about the investigation, and that he has done nothing wrong. He wonders about one thing only.
"After all of the allegations against me have been proven false, are any of these people going to come up and apologize to me?" Thomas said.
Audio recordings of the meetings are available for review in the superintendent's office for those wishing clarification or additional information. Thomas also invites members of the community to visit his office and examine for themselves the documentation he has gathered.