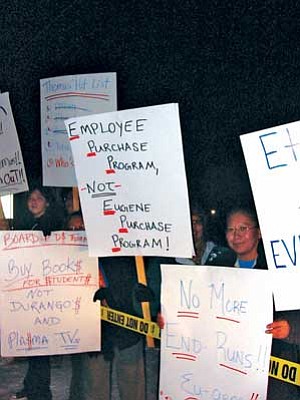 Originally Published: January 16, 2008 10:57 a.m.
TUBA CITY - Emotions ran high at the Jan. 9 regular meeting of the Tuba City Unified School District (TCUSD) Governing Board. Angry parents, teachers and students picketed the meeting, demanding that their concerns be heard. Efforts to avoid topics of a political nature by members of the board and TCUSD Superintendent Eugene Thomas were shouted down as people insisted on being allowed to speak.
Most of the complaints aired during the public portion of the meeting involved the charges leveled against Thomas, Associate Superintendent for Human Resources/Support Services Adelbert Goldtooth and Chief Financial Officer Joseph Begay.
Charges against Thomas, Goldtooth and Begay were brought forth by Rosanda Suetopka Thayer (TCUSD public information officer) and Ron Begay (TCUSD construction manager).
The group has circulated a petition to the board to remove Thomas from his position and plan on seeking a referendum to recall board members Alvin Harvey, Linda Honahni and Jack Begay from their positions.
Protesters claim that Thomas is guilty of numerous indiscretions-both in his present position and in positions held previously in reservation schools across northern Arizona. Further, they claim that the board has acted inappropriately by approving measures the group finds objectionable.
Thomas maintains that neither he nor the board have done anything wrong, and that the charges against him are lies generated by individuals with their own agendas.
Community demonstrates frustration
A group of 30 or 40 people converged on the Primary School before the scheduled meeting commenced. Participants carried signs and chanted slogans, including "Show us the love," referring to a statement attributed to Thomas by one teacher.
Protesters were ordered to leave school property and Navajo Nation law enforcement established a yellow tape boundary where the protesters continued their chants.
The meeting room was quickly filled to capacity, with standing room only. Latecomers found themselves crowded into the two entryways leading into the meeting room. Of an estimated 150 community members, many were present to observe, while others challenged the board and Thomas for the right to speak.
The new board president, Linda Honahni, agreed to hear those who had filled out comment cards, but some who claim they had filled out cards were not heard.
Thomas remained calm while many of his statements were attacked-and one individually loudly challenged his right to call himself "Doctor." (See article "Superintendent Thomas responds to allegations leveled against him" on Page B2).
As the public comment period progressed, individuals aired grievances that included a concern for children having to wait outside in the cold for school to start, bathroom lockdowns and mismanagement of funds by the superintendent and the board.
Marie Wheeler said that she had served 10 years on the board and has been a teacher at the high school for nine. She spoke about what she called the "needless spending of the children's money" and wondered how the board had approved an increase in pay for administrative personnel when her son, a junior high student, had to sleep on a gymnasium floor at another school during a basketball tournament. She protested the approval of $20,000 raises for three administrative personnel.
"You allow these things to happen," Wheeler said. "We've been told we may have to buy boxes of toilet paper for students.
"I want you to know that I completely trust you with the funds generated by the students. Maybe that's why I'm thinking I should withdraw my trust from you," Wheeler added.
Angela Jenkins expressed her frustration in knowing that board members and administrators arrived to work in new vehicles while students-even kindergartners-waited outside in the cold.
"You need to trust us, and listen to us," Jenkins told board members. "I'm speaking for parents in the outlying areas who can't be here tonight."
Dr. Kathleen O'Neal said that she was happy to see that students were involved in the process.
"Community members and children are concerned about what is in the newspapers," O'Neal said.
She was interrupted by an individual in the audience and told that she should identify who had intimidated the students. O'Neal hesitated, and then continued.
"Mr. James Roe told the students that they would be given detention," she said.
She went on to explain that school administrators and teachers should develop important skills in their students that will instill the courage to say, "I believe I am important," and that they should not be treated as "passive vessels."
"There is an oppressive, negative attitude at the high school. Students are leaving-teachers are leaving," O'Neal said.
Virginia Butler expressed her concern about bathroom lockdowns at the high school where 900-plus students along with staff were expected to utilize only one bathroom, and that the students' bags were being searched for cell phones.
"Teachers are supposed to meet with parents after cell phones are taken," Butler said. Rather than return the phones to parents, she continued, cell phones had been kept.
Matt Nichols of the Arizona Education Association chapter said that the removal of protesters from school property constitutes a violation of their First Amendment Rights.
"Every time I come here, I say there is no voice for employees to come down and meet ... We are not the enemy. You should be grateful that the Arizona Education Association is involved," Nichols said.
This ended the public comment period of the meeting. Mary Worker, the newly appointed clerk, said that there are many issues that the board needed to hear and address.
Linda Honahni, the new board president, recognized the tough beginnings she is facing.
"I am looking forward to hearing from you all," she assured the group.
Thomas announced to the public that a special investigator would be on campus the following week investigating the charges leveled against himself, Goldtooth and Begay, and that the results of this investigation would be revealed in a special meeting to be held the week of Jan. 22 in a venue large enough to hold all who might want to attend.
Following the meeting, Greg McQuade, a social studies teacher for TCUSD, took the time to explain the role of the Tuba City Unified Education Association (TCUEA)-a part of the Arizona Education Association and the National Educational Association.
"It is the largest professional union in the world," McQuade explained. "It is a 'wall-to-wall' organization and [anyone] in the district can join, from teachers and administrators to kitchen workers and bus drivers. Our aim is to create a better public education community to ensure student success."
Another goal of the TCUEA is to establish what is known as "meet and confer"-a venue offering negotiations, or bargaining power. McQuade claims that this once existed at TCUSD, but had been taken out of the policy.
"We need it back so we don't have to go to board meetings to air our concerns," McQuade said. McQuade stated recommendations currently come from the administration. No one asks for recommendations from the staff, he added.
Robert Sombrero, a retired police officer who attended the meeting with two of his daughters, said that he hopes the newly configured board can do a better job in the future.
"I want to tell the board people to listen to us-to the community," Sombrero said. "You can tell them that we have to air our concerns or we can go to the chapter meeting to get an eviction notice like they did in Dilkon."