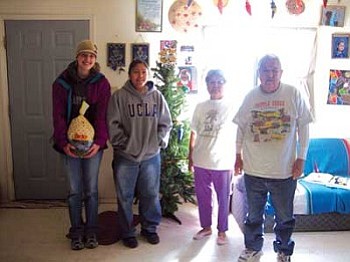 Originally Published: January 16, 2008 12:41 p.m.
POLACCA - The Hopi High School National Honor Society (NHS) delivered turkeys and the fixings to the elderly Dec. 21 during their annual food drive.
They had as much fun as Santa giving presents as Samantha Sekaquaptewa, Briann "Boo Boo" Laban and Annalese "Nan" Nasafotie made up a jingle to the tune of "Jingle Bells" as they made their deliveries.
A total of 98 bags of food were delivered to the elderly in nine villages, including first-time stops at Moenkopi. The only villages that were left out were those that didn't give a list of the elderly who could use the donations.
The 10 Hopi High NHS students making the deliveries were Sekaquaptewa, Laban and Nasafotie, along with Alyssa Begay, Chantel Benally, Kelly Keith, Allayna Koruh, Matthew Mora, Kurt Outie and Jacki Saufkie.
Carrie Joseph, advisor for the Hopi High School NHS, said she is proud of the students who helped out with the deliveries.
"The kids were pleased with their effort," she said. "The elderly responded with a lot of appreciation and smiles. Some even gave hugs."
Joseph said the event gives NHS a chance to show their appreciation to the elderly for their teachings.
"This was a way of showing our respect for the elderly," she said.
Joseph said NHS thanks everybody who donated including the diabetes program, Hopi Tribal Chairman's office, Hopi High School students and staff. She added that the staff at Hopi High School has always been generous about supporting this food drive program.
The NHS started the annual food drive at the "Meet the Bruins" boys and girls basketball night at Hopi High School in November.
The NHS charter calls for student members to have a community service project, so the Hopi High School NHS students selected this as their project several years ago.