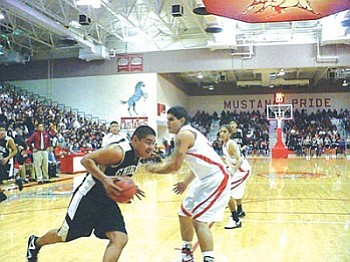 Originally Published: January 9, 2008 4:56 p.m.
KAYENTA - The Chinle Wildcat boys team remained unbeaten in the Arizona 3A Conference North Region improving to 3-0, (12-2 overall) with a 67 - 63 win over the Monument Valley Mustangs. The Mustangs dropped to 0-1 in 3A North Region Conference play and are now 9-5-1 for the season.
An estimated 2, 200 fans were on hand to witness an important 3A Conference North Region boys match up. "They jumped on us early and we withstood that," said Chinle head coach Steve Scott, as the Mustangs took a 15 - 7 lead, due in part to Reggie Todachine, Josephe Seaton, and Ryan Young. "Part of our game plan is that we would start out quickly," said Munument Valley head coach Jacob Holiday. "Tonight we had a great start [but] we didn't maintain our intensity," Holiday said as the Wildcats went on a 9-0 run with scoring from Denzel Harvey, Mathias Claw, and Nick Nez, "The kids don't get their heads down, [they] just battle back" said Scott.
They did just that taking a one point advantage, 16-15. Before the buzzer, the Mustang's Young launched one and hit a trey giving the Mustangs a first quarter lead 18 to 16.
The second quarter began with teams trading baskets with the score deadlocked at 27 with 2:28 left in the quarter when the Wildcats went on a 13-0 run. Nez scored 11 points during the run with scoring assistance from Claw and Beau Natay. Scott commented that the kids "worked their way back into the game. Once we got the lead, we never gave it up."
The half ended with the Wildcat's first double-digit lead, 40 to 27.
"With this team, they don't give up regardless of what the score is," Holiday commented. "Even with a double-digit deficit, [they] always find a way to come back." The Mustangs slowly cut into the Wildcats' lead with scoring from Todachine, Seaton and Byron Davis. The Wildcats kept their composure and got eight points from Nez, Harvey and Lyle Tsosie scored a bucket apiece, to take a 10-point advantage at the end of the third quarter with a score of 52-42.
Chinle extended the lead to 17 points as the fourth quarter got underway, Claw scored back-to-back treys. Harvey and Stanley Tsosie also contributed during the 8-0 run.
"The kids fought back," said Holiday, speaking of the 14 point run staged by Todachine, Davis, Seaton and Marvin Russell. "Anybody would have thrown in the towel, but not these young men."
"We survived," said Scott, referring to the nailing biting finish. "Coming to Monument Valley and winning. It's a hard place to win, especially on the road. In the second half, we did everything we could to give them the game," Scott continued, "But, I give that credit to Jacob (Holiday), he did a good job, getting his kids back into the ball game."
Chinle's next road game was at Window Rock Jan. 8. Then they host the Ganado Hornets in a rematch on Jan. 11 before traveling to Winslow on Jan. 15.
Monument Valley traveled to Tuba City on Jan. 8 and will host Window Rock on Jan. 11 before traveling to Holbrook on Jan. 12 and to Ganado on Jan. 15.
Chinle's Nick Nez led all scorers with 26 points, Mathias Claw contributed 15 and Denzel Harvey added 12 respectively.
Reggie Todachine scored 24 points for Monument Valley, Ryan Young added 14 points and Josephe Seaton had 13 points.