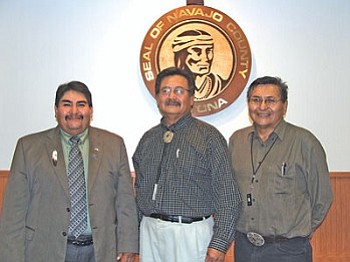 Originally Published: January 2, 2008 5:57 p.m.
Navajo County Supervisor Jesse Thompson helped host the dedication celebration of two detox and stabilization centers-one in Holbrook and one in Winslow-on Nov. 30 in the Navajo County Board of Supervisors Chambers.
"Treatment services are desperately needed for people in our community that are afflicted with substance abuse problems," Thompson said. "These people are our neighbors, our friends, our family members. It is our concern that they be in a safe place, and that one day, they be redirected to a good path."
In 2004, Thompson worked with the Arizona State legislature to create the Regional Alcohol Detoxification Centers Study Committee, a panel that was charged with the responsibility of analyzing the effects of alcohol use and recommending future action. One recommendation of the committee was state participation in the development of rural treatment centers, a cause that was championed by Rep. Mark Anderson (AZ-R-18). Rep. Anderson sponsored legislation in 2006 that provided $2.5 million in grants for the development of these treatment programs.
Thompson's hard work paid off when Navajo County leveraged a portion of these dollars to develop two treatment locations in Holbrook and Winslow.
Ben Shelley, vice president of the Navajo Nation said the facility would help the communities connect over the "needs of our brothers and sisters who are in trouble."
"President Shirley and I want to personally thank you for this development," Vice President Shelley said. "Tradition and culture are part of the healing, and we hope our Navajo supervisors will make sure of that."