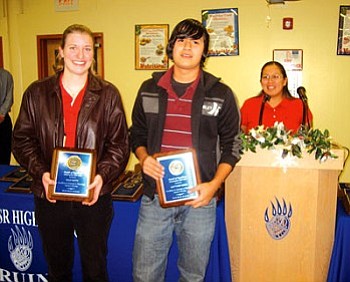 Originally Published: January 2, 2008 6:13 p.m.
POLACCA-LeAnna Leyva received four of the 153 academic awards handed out at the Hopi High School awards banquet Dec. 19 in the school's cafeteria.
Leyva received awards for biology, computers, algebra and journalism.
Leyva, a sophomore, received five awards last year and four awards during her seventh and eighth grade years. She continues to be a straight A student who is ranked first or second in her class.
Leyva said the awards ceremony was good, but she was sad when Rydell Namoki's grandparents spoke about him. Namoki recently passed away, but he received an academic award and his grandparents accepted it on his behalf.
Leyva said her mother Janet Hyeoma told her that she is proud of her accomplishments.
Leyva plans to major in veterinary medicine at Northern Arizona University (NAU) or the University of Nevada at Reno. For now, she is planning on playing softball in the spring.
Leyva said she biology is the hardest class for which she received an award.
"I barely got my last assignment about water organisms in on time," she said.
Leyva said she likes journalism because it is different than the science and math courses that she usually takes.
More like this story