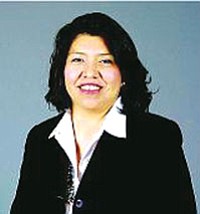 Originally Published: January 2, 2008 5:37 p.m.
WINDOW ROCK - Hope MacDonald-Lone Tree, a representative of the Navajo Nation Council, has been appointed co-chair of the newly formed Office of Justice Program's Tribal Justice Advisory Group (OJTJAG).
MacDonald-Lone Tree said that the group will consult with Native Americans and Alaska Natives on justice issues.
She said Navajo representation at the policy-making level is necessary to construct policies that will address the unique justice needs of each tribe, particularly Navajo.
"I will articulate the numerous public safety and justice system challenges that we face on the Navajo Nation and across Indian Country to senior level officials in the Department of Justice to assist in developing policies and priorities that will enhance our justice systems," she said.
MacDonald-Lone Tree noted that new jail construction has been a top priority on the Navajo Nation for decades.
"In response to public outcry, I will continue to be a strong advocate for funding and construction of new tribal jails," she said.
MacDonald-Lone Tree said efforts of this magnitude require total tribal commitment from both the executive and legislative branches and the people.
As co-chair of the advisory group, she said she will listen and seek input from all tribes to advocate for their justice needs.
There are 12 members on this advisory group with each representing a different region from throughout the country. There are also 12 alternates with Navajo Nation Councilman Raymond Joe serving as an alternate.
The group will meet quarterly and MacDonald-Lone Tree plans to make quarterly reports to the appropriate Navajo Nation Council standing committees and chapter houses.
MacDonald-Lonetree was appointed by the Navajo Nation Council's Public Safety Committee and the Intergovernmental Relations Committee.
The group was formed under the U.S. Department of Justice.
MacDonald-Lone Tree said the Office of Justice Programs is an important funding agency for Indian Country public safety and courts because they provide a great percentage of funding to tribes through grants.
"I applaud the [Department of Justice] for chartering a tribal advisory group to assist them in their government to government relationship with tribes," she said.
Navajo Nation Speaker Lawrence T. Morgan (Iyanbito/Pinedale) congratulated MacDonald-Lone Tree on her appointment.
Jefferson Keel, vice president of the National Congress of American Indians, was elected to the other co-chair position. Keel is the lieutenant governor of the Chickasaw Tribe from Oklahoma.
The Justice Program's Council on Native American Affairs was established at a senior level within the Office of Justice Programs to ensure that tribal justice, safety policy issues and strategies are developed by OJP leadership.
This policy advisory group plans to identify programs, identify opportunities and address issues of concerns relevant to Native American tribes and communities.
The group plans to serve as a central point for justice outreach, consultation and coordination on justice and safety issues that impact Native American populations nationally.
The policy advisory group will also serve as a liaison advisory group to other Department of Justice agencies and office bureaus. The group will also help set priorities that are related to tribal justice safety issues in Native American communities while focusing on interagency coordination with other departments and non-federal agencies.
MacDonald Lone-Tree said the agency will develop short, intermediate and long-term solutions to improve department programs and policies that target Native American communities.
The policy group will also distribute information, data and statistics that will describe the tribal justice and safety needs of Native Americans.
MacDonald-Lone Tree said she is honored to have been selected to this important position by a select group of tribal leaders.
"It is a privilege to work directly with the [Department of Justice] at the highest level to advocate for and address the public safety needs across North America," she said.