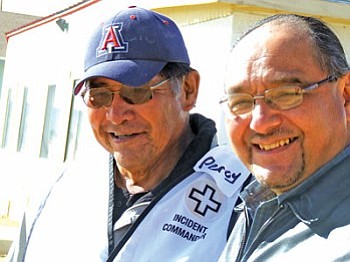 Originally Published: January 2, 2008 5:53 p.m.
HARDROCK-On Nov. 29, the Hardrock Chapter hosted a mass flu vaccination exercise sponsored by Indian Health Service (IHS) that accommodated approximately 126 people from local communities and schools.
"For the residents of Hardrock, many of whom live without running water, plumbing or electricity, it is a challenge that has been carried off with teamwork from several different organizations," said Navajo County Supervisor Percy Deal, president of the Hardrock chapter. "In addition to providing a much-needed service to an area of the reservation where resources are limited, the residents of Hardrock chapter are making an unconventional statement in today's progressive world."
Ron Tso, CEO of Chinle Hospital, agreed with Supervisor Deal's assessment of the situation.
"We have to practice responding to pandemics in these rural areas because we can't just make them go to the surrounding hospitals," Tso said. "I thought this exercise was very professional, very efficient."
Others who attended the exercise included Tom Atha, Emergency Management Director for IHS and Lorenzo Bedonie, Navajo Nation Council Delegate from Hardrock and Pinon.
Among those who contributed to the exercise were Indian Health Services (IHS), Navajo Nation Fire and Rescue, staff from the Chinle Health Services unit, staff from the Pinon Health Center, Community Health representatives, staff from Navajo County, and community volunteers.
To accommodate the flow of traffic, the vaccine was distributed to people in a drive-by fashion, especially to accommodate the elderly.
"This challenge was not only a challenge to our local people, but to the people providing services out here," said Supervisor Deal. "We appreciate the support and all the help they gave."