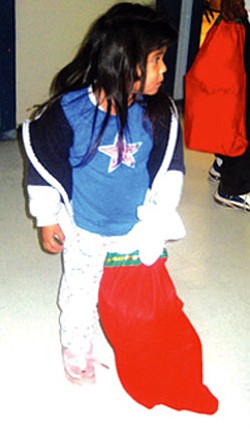 Originally Published: January 2, 2008 6:03 p.m.
RAPID CITY, S.D. - A national charity with offices in Phoenix and Rapid City, S.D. has kept alive the spirit of Christmas for American Indians living on reservations. National Relief Charities (NRC) provided Christmas gifts for over 33,000 American Indians this year. They also provided enough food to help reservation programs feed thousands at Christmas meals in their communities.
The Christmas gifts are important because, on the reservations where NRC works, poverty is often the norm. Communities are rural and remote with little or no transportation and high unemployment. It is NRC's hope that the Christmas gifts will help spread Christmas cheer to the people living on Rosebud, Pine Ridge, Navajo, Hopi, and over 30 other reservations in the Plains and Southwest.
NRC's Christmas gifts were targeted for kids, teens, and elders. The kids received Christmas stockings with gloves, fruit, toys, art supplies, and coloring books. The teens and elders received practical gifts such as toiletries, hats, gloves, and socks. It makes a big difference to the elders to know they are remembered. And for some, these will be the only Christmas gifts they receive.
For some kids, at three schools on the Pine Ridge, Northern Cheyenne, and Navajo reservations, there was a special treat-a visit by Santa Claus. Over 1,000 children got to visit with Santa one at a time, and all received huge Christmas stockings from him. The smiles on the kids' faces was priceless.
NRC also works year-round to support over 700 reservation programs that serve the people in their communities. NRC provides goods and services that help reservation programs stretch their budgets and increase participation. Some programs that NRC supports are feeding sites for elders, Healthy Start and Head Start programs, Boys and Girls' Clubs and schools, and health-related programs such as wellness centers and diabetes programs. About 90 percent of the programs they support are tribal.
NRC has three program offices: the American Indian Relief Council, the American Indian Education Foundation, and the Council of Indian Nations. To learn more, call Helen Oliff at (866) 566-2472 or visit www.nrcprograms.org, www.aircprograms.org, www.aiefprograms.org, and www.cinprograms.org.