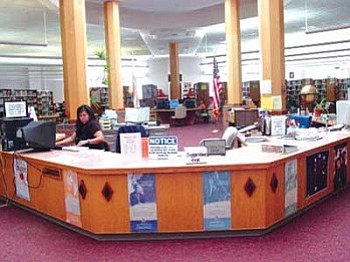 Originally Published: February 26, 2008 1:47 p.m.
WINDOW ROCK - On a cold, dreary winter day what is there to do? How about checking out a book from the library? Most people know that a library is a place for learning. They offer library cards so patrons can check out books and expand their knowledge and also offer Internet services to the public. It's a good place to teach children how to correctly use their services at an early age. But did you know that libraries offer so much more than that? One library to check out is the Navajo Nation Library in Window Rock.
The purpose of the Navajo Nation Library is to provide educational, cultural, and informational materials and services to all residents of the Navajo Nation and all others interested in learning about Native Americans. Some of the services offered include a reference department with employees there to assist patrons and offer copying and faxing services.
The Office of the Navajo Nation Library offers a vast amount of resources, including special collections, a vertical file featuring collections of articles over a 40-year span and a Native American research library consisting of printed material relating to Native American tribal groups and the Navajo and Southwestern tribal groups. They also have a Native American music collection, land claims documentation (27 years of Navajo Nation historical files) and an Office of Economic Opportunity oral history collection. For the children, they offer story time and crafts programs.
The reading program started Feb. 16 with Miss Window Rock Venessa James. She and Elementary Dine Bicheke sponsored the program. James will read to children every Saturday.
Another event the Navajo Nation Library hosted is a reading program called Webkidz. Miss Navajo Nation Jonathea Tso hosted this event Feb. 21, utilizing Webkidz on the computer as well as reading with children.
The Navajo Nation Library also accepts donated books, which either go out on the shelves or are taken to some of the chapter houses where members of the community can use them. They also offer a summer reading program, which is held in conjunction with the Arizona State Libraries. How this works is that the Arizona State Libraries will send a topic and that is the subject that the library works from.
The theme for this year is "Catch the Reading Bug." The program is set to begin July 7 and end Aug. 1.
The library is open 8 a.m.-5 p.m. Monday, 8 a.m.-8 p.m. Tuesday through Friday and 9 a.m.-5 p.m. Saturday. For more information, call (928) 871-6376 or (928) 871-6526.