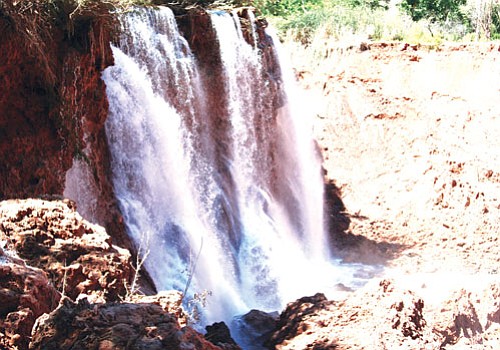 Originally Published: August 26, 2008 3:16 p.m.
CAMP VERDE, AZ. - On Aug. 19, the Yavapai-Apache Nation Tribal Council voted to provide $15,000 to the Havasupai Tribe located in the Grand Canyon for assistance in managing and assessing the damages of the recent flood that the Havasupai Village endured.
"After meeting with the Havasupai tribal leaders, I can only say that I wish we could do more. To have the opportunity to witness the damages firsthand was a moving experience. I can only hope that the local economy, community and people of Havasupai will be resurrected to its original condition prior to the flooding," said Thomas Beauty, Chairman of the Yavapai-Apache Nation.
Yavapai-Apache tribal leaders traveled to the Havasupai Village on Aug. 21 and delivered items for the Head Start program as well as a check for $15,000. During their visit, tribal leaders toured the village and damages to the village and viewed the heartbreaking impacts that the flood had on the cherished Havasupai Falls. Following the tour, Yavapai-Apache tribal leaders visited with tribal elders and members of the Havasupai Tribe.
"I hope that with the Yavapai-Apache Nation's contribution to its sister tribe, that this will be just the beginning. The entire economy for Havasupai tribal members has been eliminated, and they haven't even begun to feel the impact of the flood. I hope that other tribes, organizations and individuals will contribute to the future of Havasupai. We have all felt the impacts of a slow economy and we all ask how we can make it better. This is an opportunity for all of us to make an impact in rebuilding an economy," stated Chairman Beauty.
The Yavapai-Apache Nation is a sovereign Native American tribe from the Verde Valley. Tribal members have two culturally distinct backgrounds and speak two indigenous languages. Today, the Yavapai-Apache Nation thrives on a reservation that spans over 1,800 acres in the four communities of Camp Verde, Middle Verde, Clarkdale, and Rimrock. The Nation proudly owns and operates Cliff Castle Casino, Yavapai-Apache Construction, Yavapai-Apache Sand & Gravel, Yavapai-Apache Community Lending Corporation/CDFI and Yavapai-Apache Gaming.
For additional information on the Yavapai-Apache Nation, please contact the Office of Public Relations at (928) 567-1006.