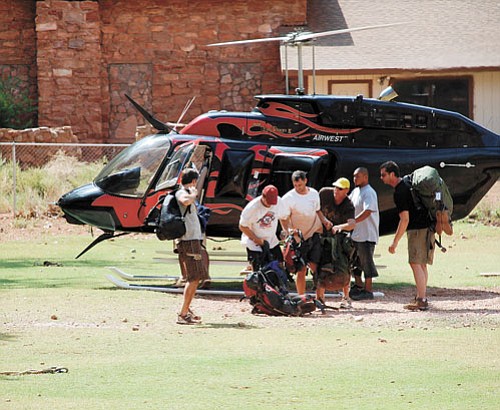 Originally Published: August 20, 2008 4:03 p.m.
Williams resident Joel Masson is lucky to be alive. What started as a simple camping excursion with friends turned into a night Masson will never forget. The group, along with roughly 170 others, were forced to flee Supai Canyon in the middle of the night Aug. 16 due to rising flood waters. All individuals, according to a report from the Coconino County Sheriff's Office, were accounted for as of Aug. 19. The flooding of Supai Canyon is said to be one of the worst of its kind in recent years.
Masson said he and a group of friends hiked to the canyon for a weekend of fun on Aug. 15.
"It's beautiful down there," Masson said. "That night, Friday night, there was lots of lightning and thunder, not a lot of rain and it pretty much cleared up. Saturday morning was beautiful, blue skies, partly cloudy. We went to Havasu Falls and went swimming and went down to Moony Falls and hung out there and went swimming and cliff jumping."
His group returned to Havasu Falls in order to explore some of the caves in the area. Masson himself took the time to photograph the falls and said the water was a clear "brilliant green" in color from his vantage point. It was then that he said he could see the falls grow in size.
"People came by at about four or five o'clock and said there was a flood coming," Masson said. "But nothing ever really happened, so then we all went back to camp and made dinner, played cards and whatnot. About five or six o'clock a lot more rain started and it was raining pretty heavy, a typical monsoon rain, a lot of lightning and thunder. It kind of subsided and I went to bed."
He was awakened around 1 a.m. by friends who reported rising water from the nearby river. Masson said it had risen roughly five feet by that time by his estimation. Deciding to move camp, Masson and his group made their way to higher ground.
"There were tons of people screaming. There were people that were actually caught on the other side of the river," he said. "When the river rose that much, it was a rushing torrent. There was no way they were going to get across. Normally the river is (about) 15 feet wide where we camped that night. It had risen to probably 30 to 40 feet across."
Masson said his group reached higher ground and were met by a man name "Bernie," who gave everyone a number in order to keep tabs on missing
After spending some time on the trail, where a constant exodus of hikers marched past to higher ground, Masson's group were told to leave their things and hurry to higher ground as well. Masson, however, said he had no desire to leave his equipment behind.
"I don't know what the future holds," he said. "I don't know what's going to happen in the next hour. I want to make sure that I have food and I have water, that I have my gear with me that I am going to need in case of an emergency."
Masson said his group made it to what he called "the next higher ground area," above Havasu Falls, to the cemetery, at roughly four o'clock in the morning.
"It was dark as could be," Masson said. "We got up there and started hearing trees beginning to break under the pressure. At one point, one of the local guides, the local rangers, said, 'everybody needs to get up on top of that cliff.'"
At that point, Masson said he started to worry.
"You're at the highest ground that you know of and they're saying you need to get higher," he said. "With my pack on, me and my group scrambled to get on this little cliff, just to get on the bluff."
His group later returned to the cemetery area, where Masson photographed the extent of the damage from the flood, only to be told that the group would have to climb the bluff yet again, where they planned to hike to Supai Village.
"I went back down to take pictures of the falls. Some of the people in my group, they didn't want to leave their stuff down there," Masson said. "Two of us, we went all the way back down to where we had set up our tents on the high ground area. When we got down there, there was a sign that says 'High Ground' and right next to the sign, like a foot below; the whole entire valley was covered in water. All the campsites were below water, five or six feet of water. I knew those people that were stranded on the other side of the river, they were stuck. That whole area had to have been under water. They would have to have been either in trees or they were dead."
He said the entire area looked as if people had literally dropped everything and ran for higher ground.
"People were in the process of taking down their tents and just walked away. People left food on the tables and there was gear everywhere, people's stuff everywhere, backpacks laying everywhere. It was pretty intense," Masson said.
After eventually making it to Supai Village, Masson said his group waited for their turn to fly out of the canyon.
"The main group of evacuees was there, but there were a number of people who were missing people from their group who were stranded below who had to be airlifted out," Masson said. It was there that he met up with other campers he had met in the canyon and was relieved to see that they were okay. Later in the day, Masson and his group were taken by helicopter out of the canyon, where they eventually returned to the trailhead in order to retrieve their vehicles.
"It was really neat, some of the relationships you immediately develop down there on the trail talking to people," he said. "As far as I know everybody was rescued. There weren't any fatalities, but I don't know. I think they're still making the counts and they're still looking for people. From talking to the locals, they said it was one of the worst floods they had ever seen."
According to reports, 170 occupants of Supai Village and campground had been safely evacuated to the Hualapai Hilltop area and bussed to an American Red Cross evacuation center as of Aug. 17. An additional 85 people were evacuated by Aug. 18, according to reports. A number of large storm systems have passed through northern Arizona in the last several days and have released large amounts of rainfall, including the flash floods, according to the Sheriff's Office. A drying trend is expected for the remainder of the week. Officials with the Coconino County, the BIA and the U.S. Deputy Marshals, along with the American Red Cross are coordinating search operations for those currently unaccounted for and plan to continue those operations, officials said. Air evacuation operations were performed by officials from the Arizona Department of Public Safety and the Arizona National Guard. Altogether rescue personnel from nine agencies worked together to transport and find campers and residents in order to transport them out of the canyon.