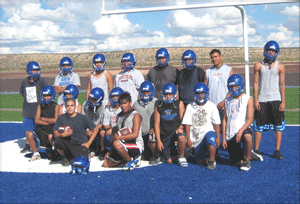 Originally Published: August 12, 2008 11:03 a.m.
POLACCA, Ariz. - Hopi High's football team hopes to do as well during the regular season as they did this summer.
Hopi won five of seven games on seven-on-seven football. The Bruins beat Sinagua twice and also notched victories against Ganado and Window Rock. Monument Valley beat Hopi twice.
Hopi High Coach Ben Willey has a young team, but expects the Bruins to win at least twice as many games as last year. Hopi finished with a disappointing 2-7 record last year including a 2-5 mark in the 2A  North.
"Hopefully we'll have a good passing game and we'll play people who are tougher on offense so we can control the ball," he said.
Coach Willey hopes Hopi can make the playoffs. In order to do so, the Bruins would have to register wins against Valley-Sanders and Rough Rock. St. Johns and Red Mesa are the favorites to lead the division.
Coach Willey said Hopi also wants to beat Greyhills "because we gave the game away last year by giving them a couple touchdowns they shouldn't have had." Hopi and Greyhills have an ongoing rivalry.
Coach Willey believes all-region quarterback Tony Pawesiwama will lead the Bruins on offense.
"We should be competitive. Our passing offense will help set up our running game," he said.
Hopi High lost seven seniors to graduation, so this is a young team except for the line returning intact.
"We need a safety and a linebacker," he said. "We have a  lot of new kids. Our defense should be improved."
Coach Willey said Kyi David and Miles Thomas will probably be the leaders on defense.
"If we're more aggressive on defense we'll be okay. We have to go out there and get people. We can't wait for them to come to us," he said.
The linemen include Chad Jones, Evan Martin, Mekael Scott, Odell Bowman, Desmond Lomayaktewa, Maktima Masayesva, Thomas Pavatea, Briar Huma, Vernon Nephi, Trevor Nasevama, Elvin Quavhema and Johnathan Quavehema.
The tailbacks or running backs include Trevor Crook, Kyle Coffman, Brian Pawesiwama, Eric Kallestewa, Donrick Kallestewa, Travis Nasevama, Lonnie Ackley, Tevin Norris, Courtney Ackley, Lane Benally and Tremaine Begay.