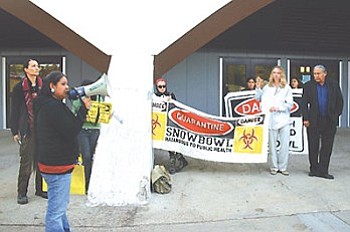 Originally Published: November 13, 2007 12:58 p.m.
FLAGSTAFF-As the sun set upon the San Francisco Peaks Nov. 7, locals gathered at the Northern Arizona University Walkup Skydome. The purpose of their congregation centered around the annual Arizona Snowbowl Job Fair. A portion of those in attendance were promoting ski resort jobs, or trying to acquire one. The other individuals represented those in absolute opposition to the Snowbowl and National Forest Services' combined plan to expand the current ski and snowplay area and use treated sewage to produce artificial snow.
As the event began, individuals bearing banners and a drum organized just outside the Skydome doors. With statements of "Protect Sacred Sites, Defend Human Rights" and "Respect Native Culture, Defend Our Environment, Protect Public Health, Boycott Snowbowl," the Flagstaff community residents asserted their deep belief in the sanctity of the San Francisco Peaks and their horror with the idea of using reclaimed wastewater upon what they regard as holy and sacred.
J.R. Murray, Snowbowl general manager, approached the individuals and asked, "So, are you going to beat your drum? Why don't you go practice your culture somewhere else?"
Klee Benally, Save The Peaks Coalition member responded to Murray's prompts.
"This is a throwback to the time when there were signs hanging around town that said, 'No dogs and no Indians allowed.' J.R. Murray's comments demonstrate their total disregard and the place that Arizona Snowbowl is coming from-a place of disrespect. Snowmaking with wastewater is going too far when you are trying to harm our religion, our freedom. We're not here to block or disrespect. We're here to bring awareness and respect for healthy communities and all of our actions will display that," Benally said.
As interested job seekers approached the Skydome they were presented with informational leaflets describing the proposed expansions at the Snowbowl including clearing more than 100 acres of alpine forest and creating a 14.8-mile long pipeline from Flagstaff to transport reclaimed wastewater to 10 million gallon storage tanks outside each lodge to facilitate its use in snowmaking.
The information was accepted by some and turned down by others as the crowd outside the Skydome grew larger than the population of those looking for work.
"They have every right to be here, but they're intimidating," Murray said. "Honestly, I don't think that them being here will have any impact."
Murray said that a wide variety of jobs numbering in the "hundreds" are available at the resort.
When asked about the impact that spraying reclaimed sewage effluent on the San Francisco Peaks would have upon Native peoples and their religious rights, Murray stated, "I choose not to comment on that at this time. It will all be left up to the courts. That's not tonight's objective. Tonight's objective is to offer people jobs."
One applicant exiting the Skydome explained his understanding of the Snowbowl plans.
"I don't know what the whole effect is," he said. "I'm just looking for a job."
Another applicant stated, "I'm a snowboarder. I just need the money. I wanna snowboard, meet some girls, have some fun. That's all I care about."
Kiona Allen, a Flagstaff native and NAU student said, "I'm reapplying to be a liftee. I think [those in opposition] can believe in what they want. I understand what they're here for and where they're coming from. I understand what the Indians are saying. I'm not for the expanding."
NAU students and Snowbowl applicants David Buckingham and Kara Saaty agreed with Allen. "We're not for it," Buckingham said. However, the pair was unaware of the recent decision of the 9th Circuit Court decision to grant the U.S. Forest Service and Snowbowl the opportunity for review of the court's March 12 decision that provided protection for the mountain held holy by more than 13 Native American Nations.
"We don't understand it, but if they do decide to use wastewater we'd look into it," Saaty said.
Mary Sojourner, a Flagstaff author, stood outside the Skydome door holding a sign with the words, "This is what racism looks like."
Murray approached her inquiring if she wanted a photo taken with him, and attempting to place his arm around her. She quickly backed away.
"I'm furious," she said. "That type of controlling attitude toward women is the same as what it is toward the mountain-'we'll just take what we want,'" she said. "And the police officer standing right there did nothing."
NAU anthropology student Aaron Bercovitch discussed his opinion of the situation as he held one banner post.
"It's sacred land, number one, and how could you say its okay to use reclaimed water on a holy place. It's like Native Americans aren't really people and they don't have a real religion," Bercovitch said.
In regard to the Chamber of Commerce and Flagstaff Ski Club's Reclaim the Peaks! campaign he added, "I believe if a corporation wants to support something they should be able to, but for the chamber to take a stand on this is wrong."
The job fair took place for three hours as applicants trickled in and out and demonstrators spoke, sang and praised the sacred Peaks.
"It's so awesome to see everybody come out today," Save the Peaks Coalition member Alberta Nells said through a megaphone. "We're out here displaying our culture and looking at the Peaks. Looking at the Peaks is what is keeping us strong," she said.
Save the Peaks Coalition member Danny Blackgoat explained, "This is a place of knowledge. We are guardians of the mountain. My heroes are people like Klee and people who are speaking out for the earth. I hope that all people regard it as sacred-Indian and non-Indian."
The case of Snowbowl expansion and the use of reclaimed wastewater on the San Francisco Peaks is set to be heard Dec. 11 in Pasadenda, Calif.
For more information in opposition to the expansion visit www.savethepeaks.org; to read comments in support of the expansion visit www.reclaimthepeaks.com.