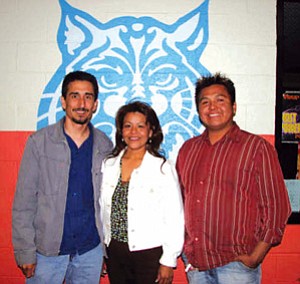 Originally Published: May 1, 2007 6:55 p.m.
TONALEA-On April 19, directors Shonie and Andee De La Rosa of Sheephead Films premiered their award winning film Mile Post 398 at Tonalea School. Mile Post 398 illustrates and pieces together a reality of Navajo life on the reservation. More than 200 people attended the two screenings held that night.
Hours before the debut of Mile Post 398, Beau Benally Jr., who portrays the main character, Cloyd, made an appearance during a school assembly held to discuss substance prevention.
Tonalea School encourages their students to flourish and be innovative and introducing Native actors like Benally is another avenue that may encourage students to study and become involved in theatrical projects.
"This is one dream I wanted to do and now I feel that I am giving back. Plus making a film is something I always wanted to do. You never know-I might get my big break from this. I look forward to making more movies," Benally told the students.
During his presentation, Benally discussed how alcohol, drugs and domestic violence are not a part of becoming a productive member of the students' environments and family. Students were thrilled to have Benally at their school and during the question and answer session Benally elaborated on the students' questions.
Benally also mentioned that the film "shows things that happen all around us as Navajos and we need to identify what the problem is before we can begin to find answers."
As students sat attentively, Benally encouraged every student to find success and follow their dreams. Benally can be reached at www.sheepheadfilms.com.
The Screenings
As movie-goers exited the first screening of Mile Post 398, those interviewed had similar responses saying, "I can relate to the scenes and I know someone that has those problems."
Another said, "Wow, some of those scenes really hit home, so real."
Shonie and Andee De La Rosa and Benally were present at the beginning of the premiere and Gerald Vandever who plays Jimmy made a surprise visit during the second screening of the film. Each Mile Post 398 representative interacted with the audience and signed autographs after the second show.
With a positive outreach to the community, both Tonalea School and Sheephead Films made an impression of promoting awareness and prevention of how alcohol, drugs and domestic violence can create destruction in an individual, a home, a family and community.
Special thanks to the Shonie and Andee De La Rosa, James Junes, Ernest Tsosie III, Beau Benally, Gerald Vandever (mentioned have all visited Tonalea School) and all those involved in the making of Mile Post 398. Your contribution and raising awareness to all communities is appreciated.