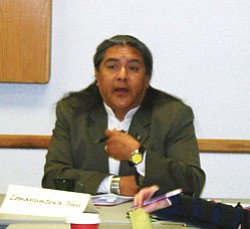 Originally Published: April 10, 2007 2:02 p.m.
FLAGSTAFF-As Northern Arizona University increases its attention and focus on being at the cutting edge of ethnic diversity as well as Native studies, ways to do this are being expanded. Through the spring semester, a series of four symposiums were held highlighting different cultures and the educational issues surrounding the integration of cultural knowledge into various curricula. The program was a cooperative endeavor organized by the Ethnic Studies Program and Faculty Development Program, and co-convened by Applied Indigenous Studies (AIS), the Commission on Ethnic Diversity, the Vice Provost for Undergraduate Studies, and Women's Studies.
Dr. Geeta Chowdhry, Ethnic Studies Department director explained, "The whole purpose of Ethnic Studies is to develop understanding...and here, a theoretical understanding of race, class and gender. Our desire is to introduce people to what's going on in these areas and increase diversity," she said. "We're really keying in on creating an environment of diversity in our classes for students of all backgrounds."
Chowdhry said that these symposiums presented a venue where students and faculty could discuss their personal experiences relating to learning and teaching about diversity.
Individuals at the conferences expressed the fact that in some situations, adversity may be faced. However, people need to be confident in the reality that a large community of individuals exists that supports cultural inclusion and understanding, Chowdry explained.
"There's also a lot of interest in white students who want to part of this change," Chowdhry said.
The sessions were entitled: Theorizing Race, Gender and Class; Insights from African American Studies; Insights into Learning from Learners; and the final held March 30, Insights from Native American Studies. Each of the panels included four members of either staff or students who addressed contemporary issues about teaching and learning in each of the previously mentioned themes.
At the conclusive session the panel consisted of AIS faculty including assistant professor of history Dr. Lomayumtewa Ishii, assistant professor of political science Dr. Elizabeth Wabindato, literature professor Dr. Jeffery Berglund, and assistant professor of women's studies Dr. Doreen Martinez.
Ishii (Hopi) began the discussions by explaining his work to bring recognition to Indigenous sensibilities.
"Once you move off Indian Country and into academia you experience history at different levels," Ishii said. "You see that there are many different voices all clamoring to be authoritative."
Ishii explained that recognizing and balancing these multiple points of view is necessary to understand the current State of Native America. He said that when one takes a step back and listens to these different voices, "we begin to understand how deeply imbedded our national consciousness is."
Wabindato, from the Bad River Band of Chippewa, used Ishii's discussion as a springboard to discuss her daughter's personal experience in an elementary school celebration of Thanksgiving. Wabindato recounted arriving at her daughter's school to find her bedecked in an "Indian" outfit including a construction paper headband. Her daughter explained that she told her teacher that the headband was "offensive to [her] culture." Even so, the teacher insisted that the little girl wear the costume for the Thanksgiving presentation.
"This is kindergarten," Wabindato said. "...and I use this just as an example of where this begins."
Wabindato said her daughter was placed in a position of educating her adult teacher about Native sensibilities and histories, and compounded with this, "all the non-Native students think that this is what Indians really are."
Wabindato said that these erroneous conceptions of "Indians"-an integral part of the U.S. culture and history-can become a point of contention when non-Native students realize their centuries-old holiday celebrations are wholly incorrect. This predicament can be uncomfortable in college classrooms when students' preconceived notions of reality are dissolved.
In another scenario, Wabindato remembered receiving a phone call from a Diné student who was terribly upset. After deciding to enroll in Navajo language classes to learn her peoples' language, she shared the excited news with another Diné student. She was then unexpectedly ridiculed by the other student for not learning her language as a child.
"The other girl said, 'Shame on you for not knowing your language. You must have horrible parents,'" Wabindato recalled, using this experience to explain another aspect of Native education.
In a third scenario described by Wabindato, a classroom discussion of the history of Native students' education at boarding schools away from their homes and families was explained. Wabindato said that when learning about the boarding school era and intentions, some non-Native students offer, "'Well, at least they got a free education.'" Wabindato explained, "That's like saying of the holocaust, 'well, they got a free train ride.'"
Wabindato used this example to discuss the lack of knowledge that many non-Native people either truly function with, or claim to have.
Berglund seconded Wabindato's assertions. "I try to honor emotion in the classroom and ask, 'Is it truly anger? Or does this mark different notions of history that have come into clash?'" Berglund said.
Berglund, who introduced himself as "from North Dakota: a child of colonizers who lived on stolen Ojibwe land," explained that when students learn of the numbers of Native peoples destroyed by Euro-American colonization termed as genocide, they are shocked.
"Students haven't ever heard genocide in the American context," Berglund said.
This lack of knowledge and familiarity drives Berglund to educate his students about contemporary authors, musicians and individuals. Berglund exemplified this with a handout containing the manifesto and song lyrics of the local, but internationally recognized band Blackfire. Blackfire is comprised of the Benally (Diné) family whose music combines Diné traditionally influenced, high-energy, and politically driven elements.
"After discussing this I pose the question, 'How might you, with respect to Native disciplines, honor the culture?'" Berglund said.
In the final presentation, Martinez explained her research in Indigenous Women in Feminism, and Native studies. She discussed the fact that many people think that Native scholarship is static and focused on the past. Martinez said that she is working to "change the way we talk about things" in order that this area of study is relocated in the present as a vital discipline.
In more than one way Martinez brought unity to the discussions. Of Mescalero Apache, Mexican and Pennsylvania Dutch ancestry, Martinez said that Native scholarship is now one of global justice. As Native peoples emerge into the world spectrum, "we're looking at how globalization is shaping local culture, but if local culture can shape globalization."
She said that Native research values incorporate humility, generosity and respect-shifting from the I-centered mentality to that of a community.
"We're really teaching peace," Ishii said.
The lectures will continue in the fall semester and include Chicano/Latino perspectives, Asian-American experiences, post colonial discourse, and religion. For more information about the lectures visit www. www4.nau.edu/ethnicstudies/ or call (928) 523-9972. For more information concerning AIS visit www.ais.nau.edu or call (928) 523-6626.