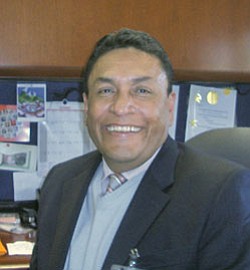 Originally Published: November 7, 2006 4:36 p.m.
FLAGSTAFF. - In a special meeting held on Tuesday, Oct. 31, the Coconino County Board of Supervisors appointed Deputy County Manager Steve Peru as County Manager. Peru has served as Interim County Manager since June of this year, following the retirement of John Holmes.
The Board chose to forego the County Manager recruitment process and appoint Peru. "While recruitment is a tool often used to find the most viable candidate for an organization and community, sometimes there is an opportunity to have such an individual who has risen from within an organization and is well-known and respected both internally and externally," said Chairman of the Board Matt Ryan. "Steve Peru is such an individual. We, the Board of Supervisors, believe that Steve is the right person for the job," said Ryan.
Peru has been with Coconino County for 27 years, and has twice served as Interim County Manager. His professional career has developed within the organization where he has filled a variety of roles, including Community Services Program Coordinator, Career and Training Center Director, Assistant to the County Manager/Clerk of the Board and Deputy County Manager.
"I am honored to be appointed County Manager and thank the Board for the confidence they have invested in me," said Peru. "I am excited and eager to work with our employees, citizens and County leadership in continuing our long tradition of providing the very best in programs and services."
For more information, call the Board of Supervisors office at (928) 779-6693, or toll-free (800) 559-9289.
More like this story