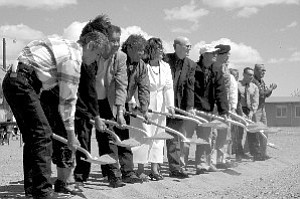 Originally Published: May 17, 2006 4 a.m.
On May 5, Winslow Residential Hall held groundbreaking ceremonies of Western and Navajo tradition to initiate the construction of its new facility at 600 N. Alfred Avenue.
The total cost of the project is estimated to be $8.2 million for this new 40,000 square-foot facility that will house 160 Native American students from regional reservation communities.
"This is not just a building. It is a home away from home, and home is where the heart is," said Joe Shirley Jr., president of the Navajo Nation.
Shirley's brother, a medicine man, blessed the ground while a crowd of over 100, mostly students, watched from under a canopy.
WRH Facility Manager Calvert Williams thanked many of the dignitaries like the project's architect Larry Herring, President Shirley and Winslow Mayor Allan Affeldt for their showing up in support of the project.
Affeldt said this is an important project for the Winslow community. Students living at the dorms come from surrounding reservation communities because they seek public education off the reservation. Native American families chose send their kids to Winslow schools, which means they shop at the local businesses and are part of the community too.
"People say the Navajo Nation is not growing economically, but that is not true. We are growing in a positive direction," Shirley said.
He likened the Navajo Nation to the "great oak tree," which is strong and enduring, and does not show rapid growth.
"After school here, when you finish your education in college, you remember to come back home and help the Navajo Nation grow," he said to the students.
Shirley said that it is important for the students to stay in school and aim high in their achievements so their academic experience can help the tribe preserve their lands and culture.
"Somewhere in your academic and work careers, you must work to stand on your own two feet and stop being so dependent," he said.
When designing the building, Herring, the architect, spent much time with tribal members to come-up with a design that is culturally relevant to local tribes.
Herring developed tribal designs and colors for the building as well as a hogan with eastern orientation. Other aspects to the plan are to build to LEDE certification which requires that certain elements be energy efficient and made from recycled materials.
Jim Moye, representative for the contractor, said that the building will be complete with dorm rooms, a living area, computer lab, dining hall, kitchen and half-court gymnasium.
The Bureau of Indian Affairs said they did not need to pay for a full court since the students living at the dorms go to Winslow schools and Winslow schools already have full-size gyms for them to use, Moye said.
"But if we can bring the project under-budget or find additional funds in the meantime while we are working on the project, we will try to make the gym a full one," he said.