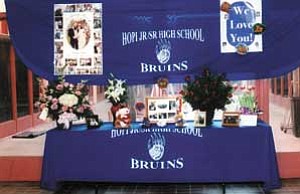 Originally Published: March 24, 2006 4 a.m.
POLACCA -- Kathy Steele wasn't only the director of special education programs for Hopi Jr/Sr High School. She was known as an advocate for special education students.
Family, friends, staff and students gave testimonial to that March 15 during a memorial to Steele in the school's cafeteria. Steele died of illness March 10.
Approximately 350 people attended the memorial. She worked at Hopi Jr/Sr High School for approximately 15 years.
The memorial included a song by a Hopi drum group and a closing candlelight ceremony.
Paul Reynolds, superintendent of Hopi Jr/Sr High School, said the gathering was to celebrate Steele's life as she was proud of her family and dedicated to her students.
Hopi High School Principal Glenn Gilman, who knew her for almost 20 years, recounted how she would advocate for the needs of special education students.
"Her staff followed her lead, and that's what made her so special," he said.
Gilman also read a poem in her honor.
Yvonne Sidney, first lady of the Hopi Tribe, read a message from Hopi Chairman Ivan Sidney. He stated that the school was suffering after losing Steele and teacher Mark Hall within a month.
Hall died of a stroke just a few weeks earlier. The services for Hall were private at the family's request.
Chairman Sidney said in his message that both Steele and Sidney served well and will be remembered. He said that Steele was a special teacher who also raised two fine sons.
"She always emphasized education," he said.
Dirk Wirth, a special education teacher at Hopi High, said it was a privilege to work for Steele because she nurtured her staff like a family.
"She was one of the best special education directors I've ever known," Wirth said. "She always got the job done and she did it extremely well. She was the glue that held us together. She always did what was in the best interests of the students."
Colleen Secakuku, another member of the special education department, presented Kathy's husband Bruce Steele with a Pendleton shawl from the special education department to express their feelings.
Romancita Adams, also part of the special education staff, said Kathy Steele showed tremendous guidance and leadership.
Mark Yost, a special education teacher, said Steele was the most caring person.
"Let's not mourn her. Let's celebrate her life," he said.
Annette Fredericks, also in the special education department, described Steele as "caring, kind and cool."
Sally Olsen, a special education teacher at Hopi High, joked about how Steele had an addiction to hot tamale jellybeans. They were handed out in cups at the start of the memorial so everybody could taste Steele's favorite treat.
Ronda Talaswaima, from the Hopi Tribe's Special Education Department, said Steele had a passion for the students she helped.
Sandra Roe is now the director of the special education department at Tuba City School District, but she previously worked at Hopi High with Steele as her supervisor.
"She taught me everything I know. That's why I am today what I am. It's all because of her," Roe said.
Jose Acevido, a student at Hopi High, said he knew Steele through her son Brendan. He described her as kind, but brutally honest.
"The hardest thing in the world is to lose a mother. It's an awakening of how much one person can change the world," he said. "She gave a lot of kids opportunities. She will continue to be in a lot of us."
Brian Huma, another student at Hopi High, told Bruce Steele that he was lucky to be married to someone who was so funny and so smart.
Pastor Bill Thompson from the First Mesa Baptist Church led a prayer and his wife Bernie sang a song.
Nona Edelson, an English teacher at Hopi High, read a poem she had written, "My sister gone too soon."
Student Faith Thompson also read a poem in Steele's memory.
Allison Vowell, an English teacher at Hopi High, read a letter from former teacher Stephanie Sivak who called Kathy Steele "a relentless advocate for special education students."
Major Phillip Taylor from Hopi High's Junior ROTC told how Steele was supportive of the program, but always made sure that the special education students had a chance to participate in Junior ROTC.
Lynn Root, substance abuse prevention counselor at Hopi High, said he was angry.
"I'm angry because this doesn't make sense. She was so young and had so much to do, but there is no one to blame," he said.
Jim Hastings, spokesman for the Bureau of Indian Affair's Office of Indian Education Programs, said they learned not to question Steele's files on her students because they were always in shape.
Helen Stalnaker, representing the Arizona Department of Education, spoke of how Steele was known throughout the area for providing exceptional services for special education students.
Renee Sidney, a teacher at First Mesa Elementary School -- where Bruce Steele works as principal -- said the staff felt his pain. She said they were working on establishing a scholarship fund in Kathy's name for special education students who want to go to college.
Tony Huma, a governing board member at Hopi Jr/Sr High School, said he knew Kathy as a parent.
"Kathy always had something positive to say. We can replace that position, but we cannot replace her," he said.
Homvi, a student at Hopi High, may have described people's feelings the best.
"I loved Mrs. Steele. She was in my heart and soul. She was my best friend," he said.
(Stan Bindell, former Observer editor, is journalism and radio teacher at Hopi High School.)