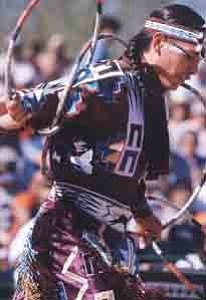 Originally Published: January 4, 2006 4 a.m.
PHOENIX -- The 16th Annual World Championship Hoop Dance title is at stake, and the finest Native American hoop dancers from across the nation will face off at the Heard Museum on Saturday and Sunday, Feb. 4 and 5. More than 40 Native hoop dancers of all ages will display their athleticism, speed and grace to an expected crowd of 10,000. The World Championship Hoop Dance Contest is sponsored by Casino Arizona.
The current and three-time World Champion, Alex Wells, Salish, from Morley, Alberta, Canada, is expected to return to the Heard Museum to defend his title.
Wells' opposition will include former champion Derrick Suwaima Davis, Lisa Odijig and Daniel Tramper as well as former teen champion Tony Duncan. This is the 16th year the Heard Museum has hosted the event, and each year it has expanded to what it is today -- a world-renowned exhibition of talent and hard work.
Being such a unique event, interest from dancers increases each year -- this year an expected 50 dancers will compete -- as the talent looks forward to impressing crowds. Dancers from the age of 2 to 70 display their best routines while expressing their cultural pride.
"This is it, if you are a hoop dancer, this is the world championship. If you win this title you are the best in the world," says Wendy Weston, Navajo, event organizer." Hoop dance is a form of artistic expression and each year contestants become more articulate in expressing themselves through this art form.
Originated in Taos Pueblo, the hoop dance symbolizes the Circle of Life and the continuous cycle of life's constant renewal. Hoop dance has become more popular in dance circles, powwows and contests throughout North America. Today's it incorporates speed and agility as dancers manipulate their body through one to more than 50 hoops. Some dancers also use creative designs and difficult manipulations to present a unique variation of the dance.
Each dancer expresses his or her distinct cultural traditions as the sounds of Northern and Southern Plains drums beat in the background.
The contest gets underway with a Grand Entry at 9:30 a.m. when all the contestants dance through the crowds, winding their way down to the dance circle in the museum's grass amphitheater, allowing spectators to view the dancers together.
Judges from each region of the United States and Canada critique the dancers on a variety of criteria in several divisions, which include: Senior (40 years and older), Adult (18 years and older), Teen (13 to 17), Youth (5 to 12) and Tiny Tot (4 and under). Dancers vie for monetary prizes and trophies, including the grand prize of $2,500 and the World Champion title in the Adult division.
Tickets are available at the gate $10 for adults, $3 for children 4-12, $7 for museum members and Native Americans and free for children under 4. For more details, please visit heard.org or call 602-252-8848.
More like this story