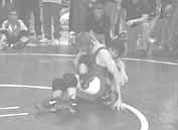 Originally Published: February 1, 2006 12:30 p.m.
The Winslow High School wrestling team defeated Holbrook 36-31 in a dual meet held at Holbrook on Friday. It was Winslow's first dual meet victory over Holbrook in nearly a decade.
Winslow wrestlers Enrique Vigil, Anthony Martinez, Victor Martinez and John Gonzales all won their matches by pins. Justin Powell and Tommy Taylor won their matches by points and David Young won by forfeit.
Keifer Gilbert, Kirk Ramsey, Justin Garcia, Kendrick Endischee and Joe Larsen all lost by points and Holbrook also won a forfeit.
The wrestling team finished fifth in the Page Invitational Wrestling Tournament held on Jan. 21. Enrique Vigil was the only individual champion for Winslow, winning the 103 pound division. He was recognized as Outstanding Wrestler. (See related story on Page 2.)
Mesa Mountain View won the tournament with a score of 268; Show Low, second, 206; Hurricane, Utah, third, 199; Camp Verde, fourth, 187; Winslow, fifth, 154; Rigetti, Calif., sixth, 153; Cedar City, Colo., seventh, 135; and Snow Canyon, Utah, eighth, 105.
Anthony Martinez (140) and Justin Powell (215) placed second in their weight divisions. David Young (275) placed fifth in his weight division. Tommy Taylor (130) and John Gonzales (160) each placed sixth in their weight divisions.
More like this story