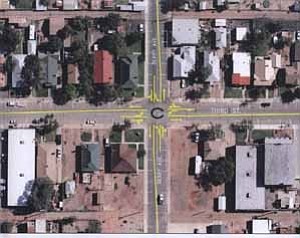 Originally Published: November 16, 2005 4 a.m.
The Winslow City Council Chambers was packed Nov. 9, as citizens gathered to express their opinions and ask questions on the Second and Third Street Corridor Study compiled by Woodson Engineering and Surveying of Flagstaff.
After an introduction by facilitator Kristin Darr of KDA Associates, Mark Woodson gave a brief project description.
Woodson began by stating that the purpose of the project was more than just downtown, as the firm was focusing on the entire Route 66 corridor.
He explained that ADOT released the two streets to the City of Winslow, and allocated $8.2 million for the project. Woodson noted that the study and the public meetings were to gather information on how citizens want the roads, and how to set aside the money for the overall project.
He said that converting to two-way streets was possible, but whether or not it would happen still needs to be decided.
Woodson noted that he would like to have the project completed before the end of the calendar year.
Following Woodson's review, Traffic Engineering Consultant Brennan Kidd of Lee Engineering presented the findings of the traffic analysis that was completed.
The analysis focused on intersections and traffic flow on both Second and Third Streets from Pope to Alfred.
There are several options for two way streets, including Option A which would be from Transcon Lane to Woodrow Avenue; Option B, Pope Avenue to Prairie Avenue; Option C, Snider Ave to Campbell Avenue; Option D, Snider to Berry; or Option E, Williamson Avenue to Berry.
"We were evaluating what's happening now, and what might happen," Kidd said. "We began by collecting data, like intersection counts and daily traffic counts."
He noted that the company was tying to find out what was good and what was bad, and by taking counts and entering them into a software program, they were able to tell the level of service the streets are currently at.
Level of Service is graded with A through F. Kidd explained that all of the intersections ministered worked well, and had no preexisting conditions.
Kidd noted that with the two-way option including left hand turn lanes, all on-street parking would be lost, but with two-way streets without left turn lanes, no parking would be lost.
Kidd noted that there would be some deterioration of intersections with two way streets, but with no left turn lanes, that would be lessened.
He added that two-way could cause some issues, such as more traffic conflicts, or crashes. All the signage and striping would have to be redone.
Following Kidd's presentation, Darr opened the floor for public comments and questions.
It was asked if the $8.2 million that was received from ADOT was all that Winslow would receive forever, and how much total would be needed to meet all the needs if the streets were converted.
Woodson said it would not be a large percentage fo the $8.2 million, which is forever.
After being asked what the advantages of converting were, Kidd explained that it would reduce the time and distance of travel.
Woodson added that it would also slow traffic down and give Winslow back that small town feel.
Newly elected Mayor Allan Affeldt pointed out that the city had already adopted a downtown plan in which two way streets were included. He noted that the plan had been adopted in 1997, and was compiled by several groups from ASU.
Affeldt also asked Kidd what study he was referring to when stating that tow way streets increased traffic accidents.
Kidd explained that he was not referring to a specific study, but a report from a federal group.
Affeldt asked why the project had been pushed up from next year to the end of this year.
Woodson explained that ADOt owns the traffic signals at Williamson and is waiting to rebuild them. ADOT gave Winslow six months to decide which way the streets would be, so that it can incorporate the decision into its design.
The firm hopes to prepare the final traffic analysis report and present its findings and recommendations to the city council for approval at the Nov. 22 meeting. If approval is not given at that time, a second city council appearance will be scheduled Dec. 13.
More like this story