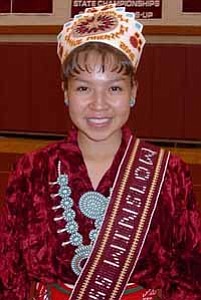 Originally Published: November 2, 2005 4 a.m.
Victoria "Sweetie" Cody, a senior at Winslow High School is the Miss Native Winslow 2005. She was crowned during the Native American Days Oct. 21.
The first runner up was Megan Lomakema, a WHS Junior, second runner up was Mervine Nelson, a WHS Sophomore, and the third runner up was Shane Rose Thomas, a WHS Freshman.
The event began on Oct. 20, with the Miss Native Winslow pageant. On Oct. 21, a Native Arts and Crafts Fair was held in the Bashas' parking lot.
Members of the committee would like all interested Native parents to lend their support.
The next JOM/Title VII Meeting will be held Tuesday, November 15, at 6:00 p.m. in the governing board conference room at the old Winslow High School Library, second floor.
More like this story