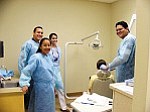 Originally Published: June 29, 2005 5 a.m.
MESA -- DezBah Damon (Dine), Michael Dobson (Dine), Molly Francis (Colville), and Leland James Pond Jr. (Assiniboine/Cheyenne) have distinguished themselves as the first Native American dental students enrolled at Arizona School of Dentistry and Oral Health.
The school is located at the Mesa Campus of the A.T. Still University, along with the Arizona School of Health Sciences in Mesa.
The four natives, along with 50 other students, make up the school's inaugural class of 1993. There were more than 1,200 applicants for the class.
The four share a desire to make a difference for native people, who continue to suffer the disparity in health care and dental provision.
On the afternoon of June 15, the four gathered around one of Pond's patients in the new 80-chair dental clinic, which opened in April. All were looking forward to the upcoming break from the impressive workload demanded of dental students. (The third class of ASDOH begins July 23). But each also spoke of their eagerness to get on with their work.
DezBaa Altaalkii Damon, a Chief Manuelito scholar for four years, said that she has wanted to be a dentist ever since she saw the instruments during a dental appointment.
"I was recently asked to think of a theme for my life, and I chose 'to be a healer.'
She credits Dr. Kenneth Denston of Farmington, N.M., with being one of her greatest role models.
"He said to me, 'do what you really want to do, do something that you are passionate about,'" Damon said.
She pointed out that she has the name of her paternal great-grandmother.
"The name is Navajo, and it means something to the effect of 'warrior' and 'independence,'" Damon said. "My parents and people that I have met tell me that the name fits me well."
Born in Farmington, Damon graduated from Aztec High with honors, and continued her education in biology and anthropology at Arizona State University, graduating in 2001.
"As a healer, I want to inspire and encourage peace, happiness, support, strength and compassion to those that cross my path," Damon said.
Her goals are to work with the Indian Health Service and Native American communities where she can provide needed dental services to the people.
Damon, who served as class vice president during her first year at ASDOH, said that the program is challenging. She said she was amazed at how much information there is to learn in the profession and the pace doesn't end.
"We are in classes Monday through Friday, 8:30 to 4:30," she said. "That includes appointments [at the clinic.] After class, we review and study. Tomorrow, I'm doing a filling," she admitted, saying that the prospect did not make her nervous.
"I have support," she added. "There will be someone assisting me. I've assisted people before and know what to expect."
Damon also listed her maternal grandmother, who wanted to go into nursing school, as an inspiration to her life.
Michael Dobson, also a Chief Manuelito scholar, follows in his father's footsteps.
"I grew up in a family where my father is an oral surgeon," Dobson said. "I have always been involved in health care provision and assisted my father until I went to college in Hawaii. There, I worked in an operating room. I've always known I would be in health care--if not medicine, then dentistry."
Dobson said that he hasn't had too many surprises in dental school.
"I've enjoyed working in the laboratory," he said. "The hands-on experience has been wonderful--we are able to practice dental procedures on a dummy."
Dobson said that he would like to do his community service learning and practice in Hawaii.
"There's a lot of work that needs to be done there," he said.
When he listed his hopes, he said they include a successful practice that will allow him to take time off to work with underserved populations in underdeveloped countries such as Peru.
He also said that he would like to do some work in the Fort Defiance area.
"I have a lot of family members living in the Fort Defiance area, and I would love to see them," Dobson said.
Away from ASDOH, Dobson has plenty to keep him busy. Married, with two daughters, Dobson enjoys outdoor sports such as surfing, snowboarding, mountain biking and rock climbing. He has also gathered a portfolio of his photographs.
Leland James Pond Jr., who was raised in Lame Deer, Mont., on the Northern Cheyenne Indian Reservation, said that his lifelong ambition has been to be the first member of the Assiniboine (Nakota) Tribe to become a dentist.
"My desire is to serve where I feel I am most needed," Pond said. "I have dedicated my life to serving the Native American community as a citizen and as a healthcare professional."
Pond said that before enrolling at ASDOH, he served four years providing clinical laboratory and radiology services for the Nez Perce Tribe.
"Although the number of Native American health care professionals is on the rise, it is still the most under-represented group of people in health care today," Pond said. "I chose a life of public service to address this disparity and to improve the standards of care provided to my people. My goals are to serve as a dentist and as a role model in the Native American community, working to meet the health care needs of the Native American people."
Pond said he had never met an American Indian dentist prior to meeting Associate Dean Dr. George Bluespruce, who encouraged him to apply to ASDOH. Pond said he found the extra year of schooling offered at ASDOH as an advantage, and that he enjoys the simulation lab, where manikins take the place of patients. The simulation lab allows experience in drilling, polishing, filling or extracting teeth.
Pond sees himself working for IHS, perhaps at Winslow or at Hopi.
Molly M. Francis describes the Colville reservation in Washington state as being much different than the Navajo or Hopi, without a modern hospital or dental clinic. She estimates that there are less than 3,000 tribal members.
"I've always wanted to be in health care," Francis said. "A dental practice allows good hours."
Francis has been involve in dance and opera, and enjoys skiing, volleyball, softball and reading. These experiences blend well with her personal goals.
"I seek the ability to incorporate art and science for the enrichment of a person's health and well being," Francis said. "I hope to work with the American Indian community and be an active part of that community."
She looks forward to her community rotations, and said that she would enjoy serving in Alaska, Maine--or Tuba City.
"I would like to work in private practice part-time," Francis said. "In the future, I hope to have a family to share my life and hopes with, yet that is in the very distant future."
"If there are any Native Americans out here interested in going into dental school, send them to us," Damon said.
"Dentistry to me is like a form of art," Francis added. "Native Americans are gifted in all areas of art. If they view dentistry as another kind of art, I know that Native Americans can succeed."